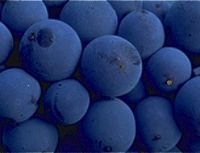 St. Christopher's Community Church holds its 31st Annual Blueberry Bash Sunday, August 17th, from Noon till 4 p.m. Come and join your friends and neighbors at this community event which can certainly be called a "Steamboat Peninsula Summertime Tradition." This is an important fundraiser for St. Christopher's and a terrific family event.
Enjoy listening to Celtic/Irish music by "Cricket on the Hearth" in St. Christopher's beautiful park-like setting.
Fill up on tasty food: brats, hot dogs, veggie dogs too, corn-on-the-cob, thick ice cream milkshakes, famous whole blueberry pies or pies by-the-slice (other fruit pies are available too).
Have fun in the Bingo garden, playing carnival games, getting your face painted by a professional, or browsing among the Silent Auction items.
St. Christopher's is located at 3320 79th Ave. NW, Olympia – just off Steamboat Island Road.
Sign your kids up for Sunday School too! Sunday School starts 9/7/08.
Click here for more information about St. Christopher's Community Church.
Check out St. Christopher's plans to expand the church and build a community center.
Don't forget St. Christopher's 2nd Annual Flea Market and Yard Sale on Saturday, August 9. Click here for more information.
Questions? Call 866-2111.