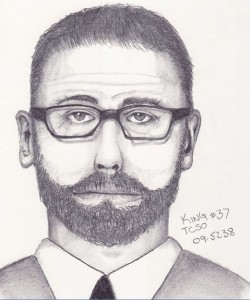 From a Thurston County Sheriff Department news release:
On August 26th, around 1230 P.M. a female resident of the 8300 block of 49th Loop SE was contacted by an adult male at her home. The male stated he had a court order signed by a Thurston County Superior Court judge for her to surrender her children to him based on allegations made against her by her husband. The woman asked to see the court order and he refused. She told him that without talking to a Deputy or her husband she would not give up her children. She then shut and locked her door. The male suspect then left in a white mini-van. The suspect made no attempt to force entry or take any other action to seize the children. A check of court orders did not find any order involving the victim, her children, or her husband at this time. The husband was contacted and he did not have any knowledge of the incident and had not been granted any court orders. The victim's three children, ages 5, 3, and 6 months are safe.
The suspect used the name Michael Jenkins but did not show any identification. He is described as a white male adult, approximately mid to late 40's, 5'6″, thin build, dark brown hair with a full beard and dark rimmed glasses. He was wearing a dark charcoal suit jacket and slacks. There are no Michael Jenkins employed in either the Superior Court or Child Protective Services or the Sheriff's Office.
A Deputy Sheriff trained as a sketch artist was able to create the attached drawing of the suspect from the victim's description. The Sheriff's Office is requesting the public's help in identifying this man. Also the public should not allow anyone using this type of ruse into their home. If they are other victims of similar attempts, the Thurston County Sheriff's Office would like to know about them. Please call 360-709-3072 or Crime Stoppers at 493-2222 if you have any information.
Chief Criminal Deputy Jim Chamberlain, 360-786-5659
Detective Lt. Chris Mealy, 360-786-5508
Click here to read the notice and to view a larger image of the artist's sketch of the suspect.