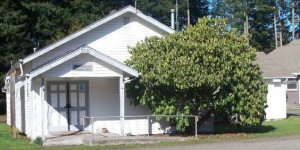 This last Holiday Season, local residents were invited by a new group, called "Restoration Hope Outreach", to gather at Prosperity Grange for "Christmas Caroling at the Grange". The event was well attended, standing room only and for the first time introduced folks to Restoration Hope, along with the founders, Ingrid Ferris-Olszewsky, Catherine Haag and Heidi Sheffels.
Much more recently, on March 8th, Restoration Hope Outreach sponsored another event, the "Steamboat Senior Gathering at the Grange." This was a 'planning meeting' and the first of what's expected to be an ongoing series of events at Prosperity Grange.
But what is Restoration Hope Outreach? According to Heidi Sheffels, one of Restoration's organizers, "In brief, the main goal of Restoration Hope Outreach is to find ways to bring our community together. And what a better place to gather than our own local Grange?"
More than $700 in donations was collected during an hour and a half at Christmas Caroling at the Grange this past Christmas Season. Those donations were used to help families, here in our Community. Most of the money went to Griffin Elementary School, delegated by Mrs. Cetak, to be placed in a special friendship fund, to help kids in need throughout the year. The rest of the donations are for St. Christopher's Food Bank that delivers food to Steamboat residents.
In the case of the Senior Gathering, the hope to make this 'a monthly event' for our own Steamboat Seniors to gather, socialize, play cards, talk and share about the past, enjoy a potluck and possibly listen to a local speaker or musician, sponsored by Restoration Hope.
The next Steamboat Senior Gathering is planned for Friday, April 12th, 10am to 11:30am at the Prosperity Grange. "All local Retirees and Seniors Welcome! Bring a friend and enjoy your time together!"