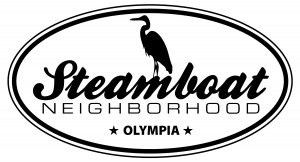 You have probably seen them around. The Steamboat Neighborhood stickers have found their way on to a lot of cars. And trucks, boats, and laptop computers. More than a thousand have been distributed at community events and from the countertops of several of the local businesses in our area.
Click here to learn more about how the Steamboat Neighborhood logo art and the sticker were created.
The story of the Steamboat Neighborhood stickers is just another of more than twenty-five years of stories from the Griffin Neighborhood Association. Join the GNA today. Your support will help us to pay for more Steamboat Neighborhood stickers, among other things.