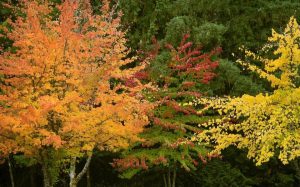 Fall is here and the autumn leaves are beautiful. Let's make sure we keep the natural beauty of our area by supporting the Steamboat Conservation Partnership (SCP). The Partnership is an agreement with Capitol Land Trust where contributions are earmarked to help conserve sensitive areas within the watersheds of Eld and Totten Inlets. All contributions are tax exempt.
Capitol Land Trust uses these contributions to cover expenses in working with local property owners for the voluntary conservation of their environmentally sensitive and critical properties. Your contribution to the SCP ensures that your support is used to conserve habitat right here in the watersheds feeding the Eld and Totten inlets.
Click here to find more details about the SCP. And click here to learn more about areas already conserved in the "Steamboat Conservation Partnership Region".
Contributions to the Steamboat Conservation Partnership may be mailed to the Capitol Land Trust with "SCP" in the check memo area.
Capitol Land Trust

209 4th Ave E, Ste. 205
Olympia, WA 98501
Or click here to make a contribution online, through the Capitol Land Trust's web site. Please remember to add, to the "Note" field on your online contribution, that the contribution is made for the SCP.
Thank you for your support of the Steamboat Conservation Partnership.