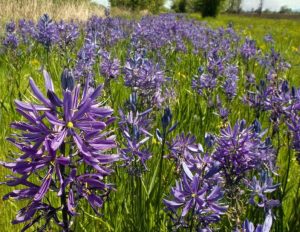 The camas plant is ecologically important to western Washington prairies. It is also important to the cultural history of the Pacific Northwest. "Camas," according to Native American Netroots, "is very high in protein: 5.4 ounces of protein per pound of roots. In comparison, steelhead trout (Salmo gairdneri) has 3.4 ounces of protein per pound." Generations of local people have gathered and consumed camas. Early white explorers, too, learned how to find and prepare camas. "Some American explorers report eating camas that had been prepared 36 years earlier."
The camas plant is an important part of South South prairies and we recently published an article regarding efforts to restore a piece of the prairie many of us pass through, every day.
You are invited to join the Squaxin Tribe and Thurston Conservation District to celebrate prairies, community, and camas.
Community for Camas
Saturday, October 21
11 AM to 2 PM
6710 Sexton Dr. NW, Olympia
Parking will be on the street with overflow parking at Griffin School.

This project brings together the tribe and community members to restore a small prairie in the Steamboat Island/Highway 101 interchange by planting camas and removing invasive species. Through restoration and partnerships, this parcel of land can be used as a teaching space for students of all ages!
Highlights include:
Learn about the cultural and ecological importance of camas from Squaxin tribal members
Plant camas bulbs on the site
Share food prepared in a traditional pit roast
Meet neighbors in your community!
If you have questions, contact Stephanie Bishop, of the Thurston County Conservation District, at sbishop@thurstoncd.com or 360-754-3588, ext. 108.

Many thanks to the event sponsors: Squaxin Island Tribe, Thurston Conservation District, Washington Native Plant Society, Washington State Department of Transportation, Steamboat Conservation Partnership, and the U.S. Fish & Wildlife Service.