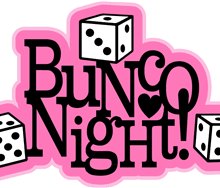 The days are shorter and the skies are cloudier. What better time for an evening of fun, indoor activity? The Griffin Neighborhood Association invites you to do just that!
On Tuesday, October 15th, we will be hosting our first community game night. It will be held from 6:30 pm to 8:30 pm at the Prosperity Grange Hall, 3701 Steamboat Island Rd NW. We will be playing a rousing game of Bunco!
Light snacks and water will be available but feel free to bring a snack of your own to share and the beverage of your choice.
We are hoping to make this a monthly event throughout the fall and winter months, having a different choice of games each time. This is a great way to meet your neighbors and have some fun!
Bunco Night
Tuesday, October 15
6:30 PM to 8:30 PM
Prosperity Grange
3701 Steamboat Island Rd. NW
Are you unfamiliar with the game of Bunco? Here's a link to one of the many web pages that describe Bunco game play.
We hope to see you at Bunco Night.