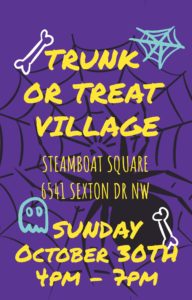 This Sunday evening, much of Steamboat Square will be turned into a Trunk or Treat Village as local residents turn out to offer a family-friendly Halloween event. This Sunday is looking to be a bit wet but that won't deter us! This will be a walk-through event for the kids. You can park behind the Square, by the Urraco Coffee Company, or across 33rd Ave NW in the Griffin School parking lot. Much of Steamboat Square will be blocked off from cars (the yellow lines on the map below indicate barricades).
More than 20 trunks are expected and there is a prize for the best display.
Candy donations can be dropped off at the Griffin Fire Department Headquarters through Friday morning. We are planning a fun time and hope you all will join us!
Trunk or Treat
Sunday, October 30, 4 PM to 7 PM
Steamboat Square, 6541 Sexton Dr. NW