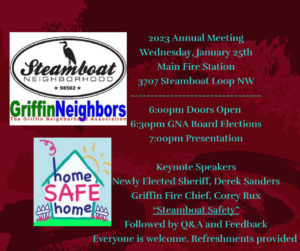 This year's Annual Meeting of the Griffin Neighborhood Association will feature two keynote speakers. Newly-elected Thurston County Sheriff Derek Sanders and Griffin Fire Department Chief Corey Rux will speak on the topic of safety in our community.
The Annual Meeting is also when members of the Griffin Neighborhood Association nominate and vote on Board members. If you are not yet a member or if your membership has lapsed, you may join us online by clicking this link. You may also join at the meeting.
Doors open at 6 PM and light refreshments will be available.
Board elections are at 6:30 PM.
The presentation by Sheriff Sanders and Chief Rux begins at 7 PM.
Annual Meeting
January 25, 6 PM
Griffin Fire Department Headquarters
3707 Steamboat Loop NW, Olympia, WA 98502
Everyone is welcome!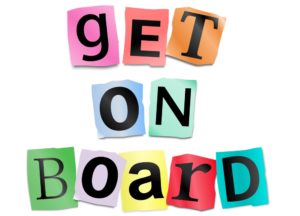 We have vacant positions on our Board. If you or someone you know is interested in serving on the Board of the Griffin Neighborhood Association, this Board Member FAQ may answer some questions about what it means to serve on the Board. Any person owning property or residing within the Griffin area is eligible to become a member of the Griffin Neighborhood Association. During the Annual Meeting we will take nominations and elect members to our Board.
At the Annual Meeting, the GNA will be collecting the following items for the St. Christopher's satellite food bank:
• Toilet paper, paper towels, tissues, napkins
• Laundry detergent
• Toothpaste, toothbrush, dental floss
• Soap, shampoo
• Diapers, baby wipes
• Feminine care products
• Deodorant, lip balm
Please consider a generous contribution to our local satellite of the Thurston County Food Bank.
Do you represent a non-profit organization operating in the Griffin area? If you would like to set up an informational table at our Annual Meeting, contact Becky Reavis at furacres@gmail.com.
For more information about the Griffin Fire Department, see their website at www.griffinfd.org
For more information about the Thurston County Sheriff's Department, see their website at thurstoncountywa.gov/sheriff