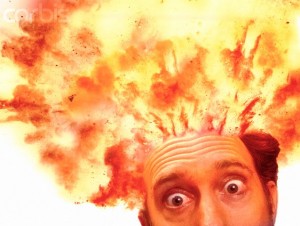 We start our review with the Secretary of State's 2010 General Election Online Voters' Guide. Click on "State Measures" to see the entire listing of initiatives and referenda on this year's ballot. Select any specific title to read the title, description, to see how it'll actually appear on the ballot, financial analysis (where appropriate) from the state Office of Financial Management, and official statements for and against each measure.
Initiative Measure 1053
This measure would restate existing statutory requirements that legislative actions raising taxes must be approved by two-thirds legislative majorities or receive voter approval, and that new or increased fees require majority legislative approval.
Let's state right up front, this measure was created by Tim Eyman. It follows on the state legislature's suspension, during this last legislative session, of the voter-approved I-960. Interestingly, nearly $600,000 has been contributed to I-1053 by oil companies and big banks. Tim Eyman has also taken out $250,000 in loans to fund Initiative 1053. Corporations account for more than three-quarters of the financial support for this initiative. The top donors are BP, Tesoro, Conoco/Phillips, Shell and the Washington Farm Bureau.
Yes on I-1053: http://www.yeson1053.com/
No on I-1053: http://www.no1053.org/
Initiative Measure 1082
This measure would authorize employers to purchase private industrial insurance beginning July 1, 2012; direct the legislature to enact conforming legislation by March 1, 2012; and eliminate the worker-paid share of medical-benefit premiums.
The initiative was created by the Building Industry Association of Washington (BIAW) and is intended to allow employers to purchase worker's compensation insurance from private insurance companies, rather than from the state Department of Labor & Indsutries.
Top donors are the BIAW, Liberty Mutual, The Hartford Financial, and Zurich (Farmers Services, LLC) insurance companies.
Yes on I-1082: http://saveourjobswa.com/
No on I-1082: http://www.voteno1082.com/
Initiative Measure 1100
This measure would close state liquor stores; authorize sale, distribution, and importation of spirits by private parties; and repeal certain requirements that govern the business operations of beer and wine distributers and producers.

I-1100 is heavily supported – and largely funded – by Costco. The other top corporate donors are Safeway and Walmart.

Yes on I-1100: http://www.yesto1100.com/
No on I-1100: http://noto1100.com/

Initiative Measure 1105

This measure would close all state liquor stores and license private parties to sell or distribute spirits. It would revise laws concerning regulation, taxation and government revenues from distribution and sale of spirits.

Odom Southern Holdings and Young's Market Company, two privately-held distributors who would benefit from the passage of I-1105, are virtually the only donors to I-1105.

Yes on I-1105: http://liquorreform.org/
No on I-1105: http://www.protectourcommunities.com/

What are the differences between I-1100 and I-1105?

Tax Revenues: I-1100 preserves existing liquor taxes, I -1105 repeals all existing liquor taxes. According to the state Office of Financial Management,, if I-1105 were to pass, "Using a range of assumptions, total state revenues decrease an estimated $486 million – $520 million and total local revenues decrease an estimated $205 million – $210 million, both over five fiscal years." If those numbers prove to be accurate, this could translate into big budget cuts in education, health, and social-services funding.

If I-1100 were to pass, "total state revenues decrease an estimated $76 million – $85 million and total local revenues decrease an estimated $180 million – $192 million, both over five fiscal years."

Changes to the way liquor, wine and beer are distributed and/or sold to the public: I-1100 would privatize sales and allow any business to become a distributor, for a fee.

I-1105 is backed by the middlemen, the distributors, and preserves the state's three-tiered buying system, whereby distributors buy liquor, beer, and wine from wholesalers; retailers then buy from distributors. And, I-1105 privatizes retail sales.

What happens if both these initiatives pass? "There is no rule in the state to dictate what happens when two [similar] initiatives pass at the exact same time," says Dave Ammons, spokesman for the secretary of state's office. "The legislature or the courts must figure out what to do," according to Ammons. "They could conceivably adopt an approach to say that the most popular of the two would prevail, or the legislature could try to harmonize the two." The legislature would need a supermajority – or two-thirds approval in both houses – to work out the differences between the two initiatives, according to the state constitution.

For more on these two related initiatives, you may wish to read The Stranger's piece entitled "Shut Up and Swallow; How We Ended Up with Two Flawed Liquor Initiatives and Why They're Our Only Hope".

Initiative Measure 1107

This measure would end sales tax on candy; end temporary sales tax on some bottled water; end temporary excise taxes on carbonated beverages; and reduce tax rates for certain food processors.

The American Beverage Association has contributed almost all of the funding for I-1107.

Yes on I-1107: http://stopgrocerytaxes.com/
No on I-1107: http://www.voteno1107.com/

Voices Opposing Initiatives 1053, 1082, 1107, 1100, and 1105

Is there a common theme behind several of the initiatives on this year's ballot? The folks at StopGreed.org would have you think so. "Initiatives 1053, 1082, 1107, 1100, and 1105," according to the progressives behind this site, were created by "corporate fronts trying to make a quick buck by conning the people of Washington State into voting for ill-conceived initiatives that would weaken or privatize public services." StopGreed.org is the brainchild of the Northwest Progressive Institute.

Full disclosure: Much of the funding information included in this piece is from StopGreed.org, which provides a good visual depiction of the source of funds for these initiatives.
Initiative Measure 1098
This measure would tax "adjusted gross income" above $200,000 (individuals) and $400,000 (joint-filers), reduce state property tax levies, reduce certain business and occupation taxes, and direct any increased revenues to education and health.
Top donors are William H. Gates, Sr., the Service Employees International Union (SEIU), and Washington Federation of State Employees.
Yes on I-1098: http://www.yeson1098.com/
No on I-1098: http://www.defeat1098.com/
Referendum Bill 52
The legislature has passed Engrossed House Bill No. 2561, concerning authorizing and funding bonds for energy efficiency projects in schools.
This bill would authorize bonds to finance construction and repair projects increasing energy efficiency in public schools and higher education buildings, and continue the sales tax on bottled water otherwise expiring in 2013.
Some 45% of school space in Washington was built or remodeled prior to 1969. R-52 requires that only projects with energy cost savings greater than the cost of the project can receive funding. All spending will be subject to audits, and must be fully publicly disclosed. Schools will use less energy and save money and children will have healthier learning environments. The legislature also passed this as a jobs bill; around 30,000 new construction jobs will be created to provide these retrofits.
Yes on R-52: http://www.healthyschoolsforwa.org/
No specific web site was found which opposes R-52. However, statements in opposition are on the Secretary of State's description of the measure.
Senate Joint Resolution 8225
The legislature has proposed a constitutional amendment concerning the limitation on state debt.
This amendment would require the state to reduce the interest accounted for in calculating the constitutional debt limit, by the amount of federal payments scheduled to be received to offset that interest.
According to the official Explanatory Statement of this measure:
The proposed amendment would not change the constitutional debt limit. It would modify the annual calculation used to determine whether the state's debt is within the constitutional limit. The amendment would require the state, in annually calculating the amount required for payment of interest on its general obligation debt, to subtract scheduled federal payments to be received each year in respect of bonds, notes, or other evidences of indebtedness. Under the constitution, the debt the state may issue is based in part on the total amount of the state's annual principal and interest payments. Therefore, subtraction of federal payments to be credited against interest on the debt could affect the amount of aggregate debt that the state may incur.
No web sites were found which specifically intend to support or oppose passage of SJR 8225. However, voters may be interested in the statements for and against the Resolution, which appear on the Secretary of State's elections web site.
Engrossed Substitute House Joint Resolution 4220
The legislature has proposed a constitutional amendment on denying bail for persons charged with certain criminal offenses.
This amendment would authorize courts to deny bail for offenses punishable by the possibility of life in prison, on clear and convincing evidence of a propensity for violence that would likely endanger persons.
This measure, also known as the Remember Lakewood Constitutional Amendment, intends to give judges more leeway than they presently have to deny bail. Currently, there are limits on denying bail generally to those cases which might result in indictment on a capital offense. "The broader criteria in ESHJR 4220," say supporters, "would only apply where a life sentence is possible and there is a clear showing that the defendant has a propensity for violence."
Here again, voters may find the statements for and against, on the Online Voter's Guide, to be useful.
Yes on ES HJR 4220: http://www.rememberlakewood.com/
No web site was found which specifically intends to oppose passage of ES HJR 4220.
What resources have you found, to help you to make heads or tails of this year's thicket of measures on the ballot? Click here to leave your suggestions and comments.