Originally published January 10, 2017, we can now update this article with news that WSDOT will be installing signs for a zipper merge in late June, 2019. Click here to read the entire article, including 'Update #2'.
Most weekday mornings traffic begins to stack up where southbound US-101 merges from two lanes, to one, under WA-8. Drivers line up in the left hand lane and sometimes traffic slows almost all the way back to the onramp at Steamboat Island Road. As traffic slows, drivers entering US-101 at Steamboat Island Road scramble to join the line forming in the left lane. It sometimes creates a dangerous situation. And those drivers who cannot move left, or choose to remain in the right lane, feel like they are cheating, cutting into the line closer to the actual point the two lanes merge into one.
Transportation engineers call it a "zipper merge." It is not taught in driver's education. And the Washington Department of Transportation doesn't normally provide the correct signage instructing drivers how it's supposed to work. And it turns out we've been doing it wrong, all along.
At normal highway speeds, when traffic is moving smoothly through the WA-8 underpass, it's correct for drivers to move to the left lane early, when the sign indicates there is a merge ahead.
But, when traffic begins to stack up and slow down, the correct way to use a zipper merge is for drivers to fill in both lanes. If the roadway was signed correctly, long before the right lane merges into the left, there would be a sign reading, "Use both lanes to merge point."
Then, actually at the point the right lane merges into the right, drivers should file through the underpass one at a time. First a car from the left lane, then a car from the right, then the left, and so forth.
Cars from each lane file together, at the merge point, just like the teeth of a zipper.
If the roadway was signed correctly, there would be a sign at the merge reading, "Take turns merge here."
Or perhaps a single sign, like the one pictured at the bottom of this article, would suffice to notify drivers that, when there is congestion, they should use both lanes and then take turns at the merge.
When both lanes are used correctly, a zipper merge could reduce by 50% the length of the backup along US-101. At the height of out little morning rush hour, drivers using the Steamboat Island Road onramp would easily be able to get into either the right or left lane. And everyone would get under WA-8 and on their way, just as quickly as before.
In traffic engineering, the late merge or zipper method is a convention for merging traffic into a reduced number of lanes. Drivers in merging lanes are expected to use both lanes to advance to the lane reduction point and merge at that location, alternating turns.
— Wikipedia
In countries such as Germany, the zipper merge is taught to drivers and it's normal. But here in the U.S., we prefer to queue up as soon as we see there's a merge ahead. Especially as traffic begins to move more slowly. On US-101 we think of the drivers that remain in the right lane as "cheaters" who are "cutting in line" by not moving to the left. But it turns out, we've been wrong. It's not rude to use both lanes; that's the way a zipper merge is supposed to work, when traffic congestion is higher. But what would it take to develop a critical mass of local drivers, who use this route most days, to begin to change how we use both lanes along US-101?
Talk to your neighbors who regularly travel this route. Share this article. The Washington Department of Transportation usually only signs for a zipper merge in construction zones. They've done it, up in Seattle. But we can create a safer situation right here, if our own zipper merge were correctly signed. Contact WSDOT to ask for the "Use both lanes to merge point' and "Take turns merge here" signs to be installed along US-101. The WSDOT representative is Angel Hubbard at (360) 705-7281.
Update (1/11/2017): Washington DOT replied to an email sent to them, about this issue.
WSDOT considered this very issue a while back. After some investigation, we elected not to implement any zipper signing at this particular location for two main reasons:

1. Our literature search and past WSDOT experience show that encouraging drivers to zipper merge can be beneficial in slow-moving traffic conditions, and is most often employed in temporary construction situations. This location is a high-speed corridor (60 mph) that experiences congestion for only about 30 minutes a day, during the a.m. commute.

2. At the US 101 merge onto SR 8, a tight single-lane curve immediately follows after the two US 101 lanes drop to one. The tight merge operates at full capacity during the morning rush, and traffic engineers did not believe a zipper merge would notably increase through-put or travel times. This was confirmed with visual field verifications, and from traffic modeling.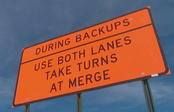 It's clear the zipper merge is useful when there's congestion, and not at normal highway speed. That does present a challenge to clearly signing the road. However, we don't expect use of both lanes, as a zipper merge, to decrease travel times. Instead, we want to reduce the numbers of unsafe merges into the left lane, when congestion causes traffic to back up in that lane nearly to Steamboat Island Road. Also, we have seen instances when cars drive down the middle of US-101, straddling the center line, specifically to prevent others from using the right lane.
What steps can be taken to legitimize use of the right lane, when there is congestion at this merge?
Update (1/20/2017): The only available solution may be an educational campaign.
A dialog with Representative MacEwen's office and WSDOT representatives has disclosed how complicated merely signing this location may actually be. Apparently, except for use in a construction zone, standards for signing a zipper merge don't exist along US highways. The Washington State Patrol, too, has expressed concerns they wouldn't be able to accurately assign fault to accidents occurring where it wasn't clear, at the merge point, which lane was ending.
In the short term, we may be left with the only remedy being an educational campaign. But are there enough drivers coming from the Steamboat Peninsula to have an impact on the behavior of drivers coming from further up US-101? Time will tell.
Update #2 (6/10/2019): WSDOT Announces Zipper Merge Pilot for US-101 and WA-8
WSDOT has now announced, "We will install new signs in late June to encourage use of the zipper merge. This effort is a pilot project that we will evaluate for possible use in other areas."
Two signs will be installed. One will be not far after the onramp from Steamboat Island Road. The second sign will be at the merge point.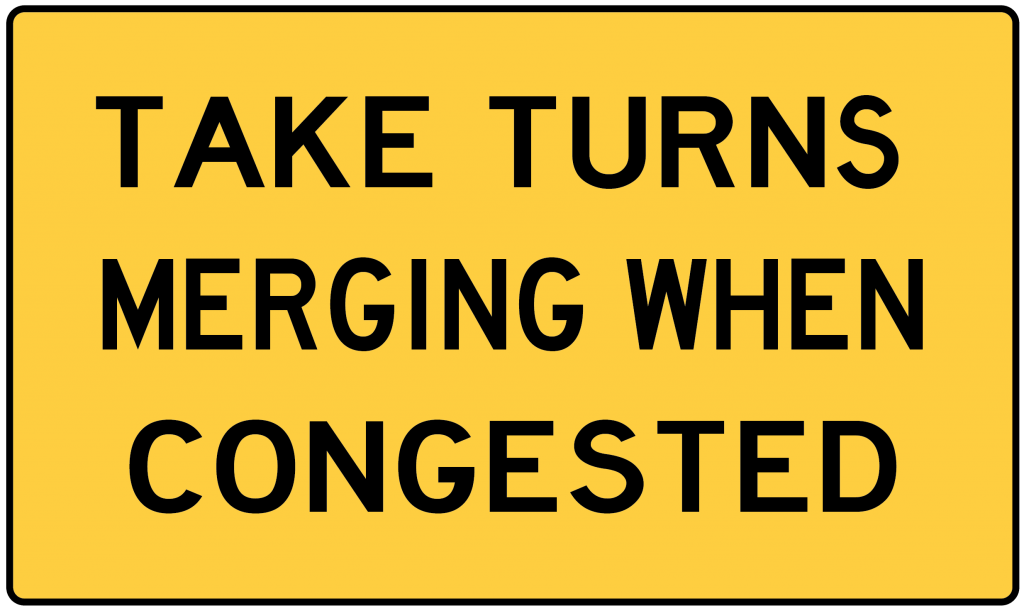 Here are some more details from WSDOT's news release:
The situation

During the morning commute, southbound US 101 near Steamboat Island outside Olympia has regular congestion. Two lanes reduce to one where the highway passes under SR 8. Most commuters merge into the left lane after signs advise that the right lane ends in less than a mile.

All of those vehicles crammed into one lane creates a long line of slower-moving travelers slogging through the interchange. All the while, the right lane goes mostly unused, except for a few who zoom by, eliciting scowls and scorn from all of the drivers waiting in line.

Why not expand the roadway?

Extension of a second lane under SR 8 would eliminate the bottleneck, but it would require crews to demolish two existing bridges and rebuild them with much larger and more expensive spans – a very expensive and time-consuming endeavor.

Enter the zipper merge

The zipper merge is all about making the most of the existing roadway by having drivers rethink what it means to "drive nice." Instead of merging while up the hill near Steamboat Island, we want drivers to merge closer to the area where the lane ends. Vehicles will politely switch off, letting their neighbor proceed at a nice steady speed, just like a zipper.

Although it might feel like cheating, merging at this location in this fashion will help cut congestion and increase the efficiency of the existing highway. Nobody is cheating or cutting in line. When you drive nice in the zipper, all of the unused road gets used, so we can all get there with reduced congestion and reduced scowling.