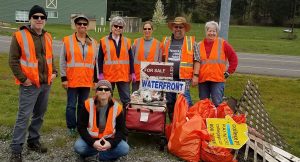 Thank you to all the volunteers for a successful roadside litter pickup this weekend!
On Saturday, April 20th members of the Griffin Neighborhood Association and neighborhood volunteers cleaned up litter and debris along sections of Steamboat Island Road, Old Steamboat Island Road, 33rd Ave NW, Sexton Drive NW, and Madrona Beach Road NW. Roadside signage, safety cones and safety gear were provided by Thurston County Public Works.
We appreciate everyone's efforts in reducing and eliminating litter and pollution in our neighborhood and shared spaces. Whether it be cleaning up roadside litter in front of your home or business, participating in a litter cleanup event, or simply picking up litter in your free time – know your efforts are noticed and do make a difference. Here are some facts you may not know about litter:
Washington Ecology reports that in 2018 Thurston County was counted as having the second highest number of pounds of litter cleaned up by paid workers in the Southwest Region of Washington: 190,223 lbs. In comparison the highest was Clark County at 290,982 lbs, the lowest was Wahkiakum at 120 lbs of litter. Thurston County also had the second highest number of illegal dump sites cleaned up at 307 sites. The highest was Cowlitz County at 494 dump sites, the lowest was Wahkiakum at 3 dump sites.
Volunteer litter cleanups events DO NOT count towards these statistics and government agencies such as Thurston County and Washington Ecology are limited in their ability to clean up all the litter. Many dumpsites go undiscovered or left in place, and much of roadside litter is either scattered by wind, animals and/or rain, or deposited in places too difficult and/or dangerous for cleanup crews to access. Finally, the efforts it would take to clean up all litter and debris out there is far beyond the time and ability of the current number of cleanup crews and volunteers on task. A much as we wish and hope that litter will become a thing of the past through education and litter prevention programs such as Washington Ecology's 'Litter and it Will Hurt', that simply has not been the case. The 'Litter and it Will Hurt' program did reduce overall litter by 25% while it was in effect, however, the program was suspended in 2009 when Washington litter cleanup taxes were diverted to support other state priorities. Since then it has been left to Washington Patrol Officers to enforce Washington litter laws. Thurston County Public Works runs a volunteer program but also does not have the means to enforce litter laws. (References: https://ecology.wa.gov/Waste-Toxics/Solid-waste-litter/Litter/Past-litter-prevention-programs and https://www.co.thurston.wa.us/publicworks/Docs/LitterControlProgram.pdf).
Litter is pollution. Litter is comprised of various paper products, metals, plastics, food waste, wood waste, rubber and cement products, among other things. Even seemingly innocent "compostable" items such as banana peels, apple cores, and food paper wrappers are in fact litter, and while they may not contain pollutants (possibly pesticides) are simply unsightly and unwanted on our roadsides and in our public places. Plastics, metal containers and treated paper products have component such as dyes and additives that can be toxic and/or carcinogenic, with the potential to leach into soils and water-ways disrupting the natural food cycle. Litter has been linked to algal blooms, poisoning of fish and wildlife, and can even harm your pets and livestock. It is now estimated that there is more common household litter polluting our waterways than pollution from industry. According to USA Today the "worst offenders" are cigarette butts, fast food wrappers and cups, plastic bags and food (again, yes, that apple core is in fact litter).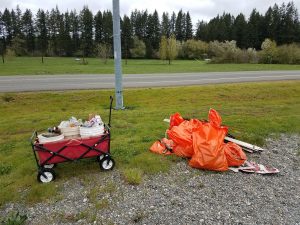 This is why it's so important for litter cleanup to be a combined community effort. If you care for your neighborhood, your neighbors will take notice and care more too. The opposite effect is if you litter (or leave litter in place when you see it), other people will see the litter and litter too. This is known as "The Broken Windows Theory": the concept that each problem that goes unattended in a given environment affects people's attitude toward that environment and leads to more problems.
There is a saying that goes "If you see it, you own it." If you see litter, join us in this effort and please pick it up – we and your neighbors thank you!!
To get on the GNA Litter Pickup mailing list and get involved with volunteer efforts in your neighborhood please email Rob Helms at robdhelms@gmail.com. The next litter pickup is scheduled for 9 AM Saturday, June 1, 2019. Meet in the gravel parking lot across from Steamboat Tennis and Athletic Club.
Click here to read our prior article on this topic, "Roadside Litter Pickup This Saturday is Part of a Quiet, Long Tradition."