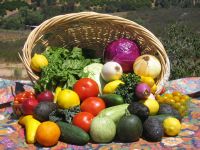 Join us for a Monthly Luncheon, this time spotlighting locally grown food. Learn to prepare raw food and learn about our local farmers and their life giving art.
Featuring Chef: Maya Adjani, Living Food Preparation and
Farmer: Susie Kyle of Winlock Meadows Farm.
Date: June 28, 2008
Time: 11:30 am to 3:00 pm
Location: 9604 Hunter Point Road NW, Olympia, WA 98502
Minimum Gift: $40 to benefit local farmers
Additional contributions are appreciated
To reserve your spot, gifts need to in by June 20, 2008.
Make checks out "Velma Rogers" and send to 9604 Hunter Point Road NW, Olympia, WA 98502.
For questions, contact Velma at 360-866-0244 or email at VelmasVegetables@aol.com
Click here to download the poster for this event.
Who is Maya Adjani?
Maya is a dynamic healer and health enthusiast. Ms. Adjani is a writer, artist, entrepreneur, world traveler and certified Kundalini and Hatha yoga instructor. She enjoys sharing her in-depth study of wellness and innate passion for life, wholeness and abundance. She began focused study on living foods more than nine years ago, and has never doubted its simple brilliance. Her approach to health and self-healing is compassionate, playful and uplifting. Maya Adjani lectures on the benefits of living food and has taught hanlds-on live food preparation at various venues throughout the Western U.S.
Community supported agriculture (CSA) is a new idea in farming, one that has been gaining momentum since its introduction to the United States from Europe in the mid-1980s. The CSA concept originated in the 1960s in Switzerland and Japan, where consumers interested in safe food and farmers seeking stable markets for their crops joined together in economic partnerships. Today, CSA farms in the U.S., known as CSAs, currently number more than 400. Most are located near urban centers in New England, the Mid-Atlantic states, and the Great Lakes region, with growing numbers in other areas, including the West Coast.

In basic terms, CSA consists of a community of individuals who pledge support to a farm operation so that the farmland becomes, either legally or spiritually, the community's farm, with the growers and consumers providing mutual support and sharing the risks and benefits of food production. Typically, members or "share-holders" of the farm or garden pledge in advance to cover the anticipated costs of the farm operation and farmer's salary. In return, they receive shares in the farm's bounty throughout the growing season, as well as satisfaction gained from reconnecting to the land and participating directly in food production. Members also share in the risks of farming, including poor harvests due to unfavorable weather or pests. By direct sales to community members, who have provided the farmer with working capital in advance, growers receive better prices for their crops, gain some financial security, and are relieved of much of the burden of marketing.

— An EXCERPT from "Community Supported Agriculture (CSA): An Annotated Bibliography and Resource Guide."
For more information about local agriculture, see the Thurston County Food Map at http://fertileground.org/foodshed/
The Evergreen State College maintains a list of local CSA's. Click here for that list.