Thanks to generous contributions from three local businesses, the Griffin Neighborhood Association is once again able to distribute the iconic, oval "Steamboat Neighborhood" stickers free to area residents. Soon you will be able to pick up your sticker at businesses such as Companion Cove, the Island Market, Steamboat Island Coffee Shop, Urraco Coffee Company, Tipsy Whale, Our Community Credit Union (Steamboat Peninsula branch), the Griffin Fire Department Headquarters, and more.
These stickers are provided at no cost to the Association because of the support from these local businesses: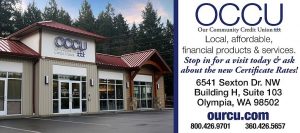 At OCCU you'll find a variety of financial services including checking and savings accounts, personal loans, auto and RV loans, home improvement and land loans, financial education, online banking services, and more. Find out why OCCU says, "We're community strong since 1941."
Missy Watts, Realtor®, of Watts Property Group
When it comes to your real estate needs, the most important decision you will make is which broker to choose. Local resident Missy Watts has received the prestigious "Certified Residential Specialist (CRS)" designation, which only 5% of all Realtors have obtained. She has a deep familiarity with this region and she heads up an experienced and aggressive team of real estate experts.
"Having a broker in your corner who understands the area ensures that you will love where you live."
Steamboat Tennis and Athletic Club
With the recent announcement that they'll be opening a new fitness facility, STAC truly has become "your one-stop health and fitness solution." They already offer a wide range of adult and junior tennis classes, private and group tennis lessons, and tennis events. Their new fitness facility will feature a training floor with strength and aerobic equipment, an indoor saltwater pool with 3 lanes for lap swimming, group fitness classes including yoga and spin, personal training, and much more.
Our Steamboat Neighborhood stickers have been seen on cars, trucks, boats, laptops. . . you name it. We've heard of area residents "finding" one another by spotting these stickers while traveling out of state.
Over the next week or so, GNA volunteers will be working to deliver supplies of these stickers to local businesses. Get your sticker while you support the businesses operating here in our neighborhood.
Read more about the history of the distinctive Steamboat Neighborhood sticker on our website.