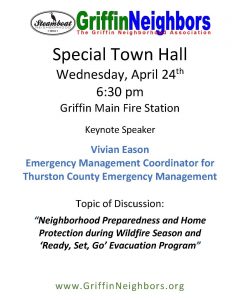 "In Thurston County, wildland fire is the most frequently occurring hazard, seeing an average of 70 wildland fires per year." So begins the County's web page regarding how you can make your home more secure during wildfire season. We don't think of wildfires in our part of Western Washington, but as the summers become drier it may be prudent to familiarize ourselves with some basic changes we can make in order to build a defensible space around our homes. On Wednesday, April 24th the Griffin Neighborhood Association will host a presentation by Thurston County Emergency Mangement on the topic of "Neighborhood Preparedness and Home Protection during Wildfire Season and the 'Ready, Set, Go' Evacuation Program." We hope you'll join us.
The National Fire Protection Association has created an informational program called "Firewise." Their website contains a wealth of useful materials for homeowners in rural areas such as ours. This page, in particular, describes the concept of the "home ignition zone" as a means of describing how controlling fuels can build a natural defense protecting homes and outbuildings from wildfire.
There are three zones radiating out at distances of zero to five feet, five to 30 feet, and 30 to 100 feet from the home. The space within five feet – the "immediate zone" – is the non-combustible area. "Science tells us this is the most important zone to take immediate action on as it is the most vulnerable to embers."
From five to 30 feet, tree spacing and creating breaks in lower vegetation provides the greatest benefit.
Beyond 30 feet, "the goal here is not to eliminate fire but to interrupt fire's path and keep flames smaller and on the ground."
For more details about these three zones, click here.
Firewise is on Facebook, too.
At this month's Town Hall meeting, Vivian Eason, Emergency Management Coordinator for Thurston County Emergency Management, will also speak about the County's evacuation plan.
One important step you can take to help in an evacuation is to sign up for emergency alerts and notifications. Click this link for more information about the kinds of alerts available and to sign up.
Town Hall Meeting: "Neighborhood Preparedness and Home Protection during Wildfire Season and the 'Ready, Set, Go' Evacuation Program"
Wednesday, April 24
6:30 PM
Griffin Fire Department Headquarters
A wealth of information about preparing for a variety of disasters is available on the Thurston County Emergency Management website.
If this information is valuable to you, and you would like to see more like it, please join the Griffin Neighborhood Association. If you own property, a business, or reside in the Griffin area, you are eligible to become a member of the Griffin Neighborhood Association. Click here for more information and to join online. Thank you! from the GNA.