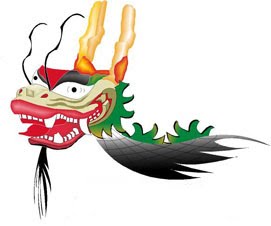 DRAGON BOAT RACES AT PORT PLAZA IN OLYMPIA ON SUNDAY APRIL 25TH STARTING AT 9AM.
Join the crowd to cheer on the Griffin Dragon Boat
team this year. The Annual Dragon Boat Race & Festival,
sponsored by the Office of International Programs & Development, St. Martin's University, will take place at the Port Plaza on Sunday April 25th. If you have never seen a Dragon Boat Race, you are in for a rare treat. Come help make Griffin the winning team! The dotting of the eye happens at 9am. What is that? Come and see. . .
Click here to see a picture of the Griffin School's Dragon Boat.