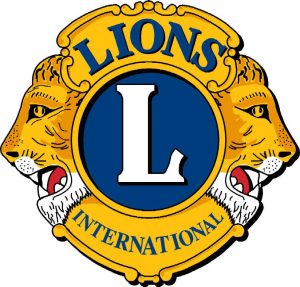 You may know them as the people who recycle your eyeglasses. That is part of activities begun by the Lions after, in 1925, Helen Keller "challenged Lions to become 'knights of the blind in the crusade against darkness.'" There has been a Lions Club in the Olympia area since 1935. Now there is a Lions Club being formed right here on the Steamboat Peninsula. You are invited to come this Monday and learn more about this organization of "1.4 million men and women who believe that kindness matters."
Olympia Steamboat Peninsula Lions Club
Monday, August 28
6:30 PM – 8:30 PM
Griffin Fire Station 2, 8113 Steamboat Island Rd NW, Olympia, WA

Please take note: The meeting is not at the fire department headquarters. The meeting is being held at Station 2, more than halfway up the peninsula.
Local resident and Lions Club member Karen Sell and others have come together to form the newest branch of the Olympia Lions Club. According to an event notification on Nextdoor, "We have selected officers and project leads and invite anyone interested to join us as we develop more ways to enhance our community here on the Steamboat Peninsula. Projects we are already planning are local apple sales, vision and hearing screenings for our area school children, and the distribution of dictionaries to local third grade students."
For many of us, the Lions Club is a name with which we are familiar. But what and who are the Lions? Lions Clubs International traces its roots back to 1917, in Chicago. Their mission is "To empower volunteers to serve their communities, meet humanitarian needs, encourage peace and promote international understanding through Lions clubs" and "To be the global leader in community and humanitarian service." In the Olympia area, you may have seen Lions working to support organizations such as the the Little Red Schoolhouse Project, Homeless Backpacks, Senior Services for South Sound, and the Thurston County Food Bank.
Now there is a branch of the Lions Club forming to identify projects of interest here in the Griffin area.
"If you are excited about improving the sense of community here on the peninsula – and getting involved in some local service projects – this could be for you," wrote Karen Sell, on Nextdoor. "Come to a meeting to learn more."
The Lions Club Annual Fuji Apples Sale Has Begun
The new Olympia Steamboat Peninsula Lions Club branch is now taking orders for 40 pound boxes of Fuji apples – fresh from the orchard in Wenatchee – for just $30. Proceeds benefit Camp Leo summer camp for children with diabetes and Lions vision screening/eyeglasses for children.
"October is just around the corner, just think of the pies and other great treats you can make as the temps start down," wrote local member Mike Reavis. Orders must be in by September 25 – Apples will be delivered to you in October. If you would like to order or have questions, email Mike at TechL0rd1992@Gmail.com with your phone number for a call back or your email address.
Update:
Congratulations to Elaine Moore of Steamboat Island Road, who has won the free 40 pound box of Fuji apples given away by the Olympia Host Lions to advertise their apple sale and the formation of a new Steamboat Island peninsula Lions branch.
And if you did not win the free apples from the Lions, you still have a chance to get a 40 pound box of those luscious Fuji apples at the ridiculously low price of just $30 – that is just about 75 cents a pound.
The Steamboat Lions will induct 10 new members into their branch September 10. If you would like to be a part of the new Lions club working on projects for the Steamboat Peninsula, contact Karen Sell at karenlsell@gmail.com and she will reply with all the details.