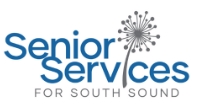 The Home Share Program brings together those who have available housing with those seeking affordable housing in exchange for assistance with household chores, transportation, and increased quality of life. It's a way for elderly residents to maintain some independence and remain in their homes. If you are an elderly resident who has an extra room or a guest house available, and you could benefit from someone to assist you in your home, the Home Share Program could match you with someone seeking an affordable living arrangement.
The Home Share Program is offered by Senior Services for South Sound. Both home providers – those who have a home – and home seekers are interviewed for compatibility of lifestyles. References and a thorough criminal background check is conducted. Program Managers will then match Home Providers with Home Seekers. Providers and Seekers who have been matched will spend time getting to know each other and confirm or deny their compatibility.
The Home Share Program web page has more information and downloadable applications. Contact Rebecca Hutchinson, Home Share Program Manager at (360) 586-6181 ext. 111 or Emme Williamson, Home Share Program Assistant at ext. 136. Their email address is homeshare@southsoundseniors.org. Also, click here to view a two-page flyer with more information.
The Home Share Program is funded by the City of Lacey, the City of Olympia, the City of Tumwater, and The Regional Housing Council.