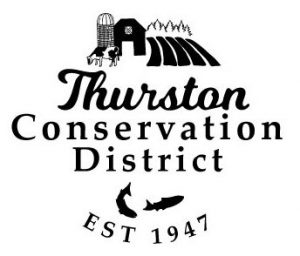 Three candidates are vying for a single empty seat on the Thurston Conservation District's Board of Supervisors. Every registered voter in the Griffin area are eligible to participate in the election. However, the balloting is done outside the County's normal process. If you are not familiar with the Conservation District, let me take this opportunity to provide a little background. I also want to describe the very odd ballot procedures and encourage you to participate, even though the cumbersome process seems designed to discourage voter participation.
What is the Thurston Conservation District?
Created in 1947, our conservation district is a legal subdivision of state government. It administers programs to conserve natural resources. The Conservation District is self-governed by volunteers who establish priorities and set policy. According to the TCD's web site, "Conservation Districts exist in practically every county throughout the United States."
Many of us, particularly in rural and semi-rural parts of the county, have used services from the TCD. "From a one-time soil test to an in-depth Conservation Plan, we're here to help people feel comfortable and prepared when working with and on their land." Equipment rental, access to advice and resources for habitat restoration and preservation, and a wealth of information to help property owners to manage their land are all available – some at no extra charge – from the Thurston Conservation District.
The TCD receives financial support through a number of means. You may be familiar with the District's annual plant sale (this year's is March 3rd). Some modest revenue is also generated from equipment rental and soil testing. TCD receives most of its money from state, federal, and private grants. An important source of financial support comes from a per-parcel assessment, included as part of our property taxes. I am seeking confirmation of the amount of that assessment, and how it is paid to the TCD. I'll update this article, as soon as I get some clarification.
In 2017 TCD's budget was for nearly $1.7 million in expenses. This budget was for projects that conserve soil, restore water quality, protect shellfish and salmon, and educate the public.
The TCD is a very useful resource, whether you are a farmer or simply wish to maintain your parcel of land in a way likely to preserve its highest value.
Board Election
Five members comprise Thurston Conservation District's Board of Supervisors, each serving three-year terms, without compensation. Three of the five Supervisors are elected by registered Thurston County voters, and two are appointed by the Washington State Conservation Commission.

– TCD web site
Since the TCD is governed by a volunteer Board of Supervisors, it's very important that competent and dedicated individuals be elected. Board members who don't participate threaten the success of the TCD and potentially squander the funds that support the important services provided by the District.
One of the candidates named on the ballot – Deston Denniston – has withdrawn from the race. There are three candidates remaining. [Update: A second candidate, Edward Steinweg, has now dropped out.] Official statements by each of the candidates are posted on this web page. Beyond advising you to search online for information about these candidates, I am at a loss to provide additional information about the qualifications of each. But click here and scroll to the bottom if you would like to leave a comment, particularly if you have an informed opinion or a line on a good online resource.
There is a candidate forum, sponsored by the Sierra Club and Thurston County League of Women Voters. That forum is Tuesday, February 13! Click on the image of the flyer here, to get a larger view.
Ballot Origami
Normally, I'd say the easiest way to vote is by mail. But this election appears not to be "normal". There are two ways for you to vote.
Vote By Mail ("absentee ballot")
Begin by requesting a ballot. They are calling this an "absentee ballot." One way to get one is by phoning the Thurston County Auditor's Office at (360)786-5408 and requesting that a ballot be mailed to you. Absentee ballots may be requested between February 5th – February 28th, 2018. You can also get a ballot by going to the Auditor's Office, 2000 Lakeridge Dr. SW, Building 1, Elections – Room 118. I assume, if you request one to be mailed to you, what will arrive is a ballot similar to the ones you normally receive, for things like general elections.
Another way to get a ballot is online using this link. You enter your name and date of birth and, if the County Elections system can identify you, you are given the opportunity to either enter your vote or download a ballot with no vote (you can then manually enter your vote). No matter which online method you choose – enter a vote for a candidate or request a blank ballot – you'll need to download and print out a four-page PDF file.
One of the pages is a set of Ballot packet instructions. Another is the ballot itself. A third page is a Declaration and Signature Sheet containing language like that you normally see printed on the outside of your mail-in ballot. The fourth page is a "Return envelope cut-out template."
Here's where the fun starts. It's what I'm calling "ballot origami."Read More→