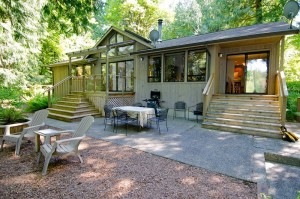 A tranquil home where you can relax, reconnect, and
create lasting memories.
The Cedars on the Sound Rental House is one of the newest additions to the GriffinNeighbors online business directory. This vacation rental is owned by local residents Vicki and Amir Salim. If you, your family or friends are seeking a truly stellar rental vacation home, look at what the Cedars on the Sound can offer. "We have had people from all walks of life come stay for all sorts of reasons," says owner Vicki Salim. "Vacations, retreats, weddings, reunions, birthdays, holidays, funerals, girls' weekends, guys' weekends, scrapbooking, visiting family or friends in the area or from the base, and people who want to have a 'stay-cation'."

People generally choose to stay at a vacation rental home because it can be less expensive than a hotel. There is more room, people can relax together in a comfortable environment, cook their own meals (eating in restaurants can be expensive), and they can live like locals. Vicki and Amir like to stay in vacation rentals, when they travel. They like to see what ideas they can take away and find it is more fun to stay in a house than a hotel.
Wood stove, games, movies, books, sound system,
and a flatscreen TV.
There is lots to do!
Vicki explains, "Before moving here, we lived in Wisconsin, Malaysia, California, and China; we moved around a lot for our jobs. At one point, we decided we wanted to find the perfect place to live: temperate climate, near the water with great natural beauty. We toured around the Northwest four different times and as soon as we came to Olympia, we knew this was home." During their first summer here, they had 26 different visitors. "We thought wow, people really like to visit this area; we should get a vacation rental house down the road!" When a gorgeous waterfront property on 7.7 acres came on the market, they didn't hesitate to buy it. They made some renovations, furnished the house, and started renting it out April 2012.
Vicki brings a personal touch to her relationship with guests at Cedars on the Sound. "We greet our guests and give them a welcome tour to answer any questions they may have about the property or Olympia; people seem to really appreciate this personalization and we have loved meeting all our guests! My favorite part is when they open the door and see the view; they always get so excited! One lady started crying!"
The high season is summer and Cedars on the Sound was almost completely booked by the end of January. In the fall and spring, they mostly get weekend visitors. As you might guess, the winter is quiet. "Winter is a great time for us to do major work on the house." Amir is a great handyman and the two of them manage almost everything to do with the house, from reservations, guest relations, cleaning between guests, marketing, and repairs and maintenance.
Gorgeous views on 7.7 acres of forest and waterfront.
Very private and peaceful
Vicki and Amir advertise on three different websites: VRBO, Homeaway and Trip Advisor (Flipkey). They currently have 54 reviews from our guests, making them the highest rated vacation rental house in Olympia.

"We work hard to make people feel comfortable and at home during their stay. People often comment that our attention to detail and high standards of cleanliness help them relax and feel at home." Says Vicki, "We often hear, 'you have thought of everything!'" Guests also appreciate Vicki and Amir are locals and know the area. They have begun to assemble "Vicki's Picks" – maps and descriptions of different parts of town with Vicki's top picks of what to see, do, eat and experience.
We welcome Cedars on the Sound to our online business directory. Do you have a local business? Click here to learn how to get your business listed. If you are looking to purchase services or materials, look to our local business directory first; you may find one of your neighbors offer exactly what you are seeking!