From local residents John & Stephanie Holttum, we received this notice and a photo about a cougar sighted near Maple Shores. This development is near Frye Cove Park.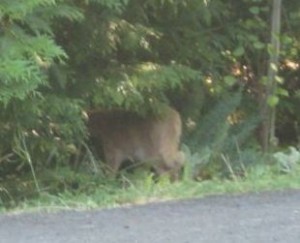 August 14
Dear Neighbors,
In recent weeks we have suspected the presence of wild animals in our neighborhood, but assumed they were the usual deer and raccoons.
Today we photographed a cougar in our front yard. This is highly unusual behavior for a wild cat, both because of the daytime appearance, the proximity to our dogs (within 30 feet), and presence of construction workers next door (within 20 feet). The animal is equal in size to our dogs.
We have notified the Department of Wildlife. They advise the neighborhood to make sure that no pet food or other potential food sources are left out, and that small children and small pets are not left unattended outside. They are reviewing the pictures we took and may provide further information or action.
We would also like to take this opportunity to request your patience on our behalf and on behalf of all the dog owners in Maple Shores. Some have noticed more barking this summer than usual, and more than could be explained by construction workers or the normal visits from deer and raccoons. This is undoubtedly the reason. Living in the country, our neighborhood dogs are our allies and deserve our thanks for alerting us to this potential threat.
With Thanks,
John & Stephanie Holttum