Leslie and Shane Hernstedt have for some time provided local dog boarding services at Dogwoods Canine Play and Stay. They have now added an Event Center to the facilities they offer our community.
Whether you are planning a sit down dinner or a gymnastics event, this conveniently located 50 foot x 60 foot heated space is worth a look. It is clean and airy, with a lot of windows. It might just be "The Right Venue for Your Event."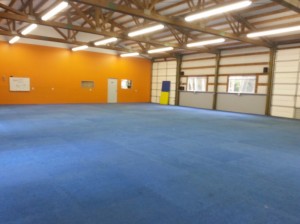 50 x 60 foot interior heated space available for rent by
the day or by the hour.
Rentals are available by the hour or by the day. The hourly rate is $25.00 and for the day is $150.00. The building includes bathroom facilities. Says Leslie, "Someone could use it for anything from a wedding to an indoor soccer match."
As far as dog boarding, the Hernstedt's have recently finished a major building project and "We are extremely happy with the way it turned out." Rates are $22.00 a night for the first pup and $18.00 a night for additional family members.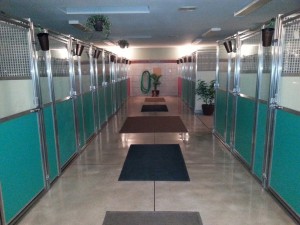 The new dog boarding kennel.
For more information about either Dogwoods Canine Play and Stay or the new Events Center, contact Leslie Hernstedt at (360) 866-7290 or leslie.dogwoods@gmail.com