THURSDAY, October 20, Olympia Center, 7:30 PM, Room 101
TOPIC: Fair Trade Around the World
SPEAKERS: Matt Warning, "African Farmers: Primary Products and Sustainable Livelihoods"
Cherie Fontenot, "How sweet it is! Fair Trade and Theo Chocolate"
Fair Trade implies the practice of using only pure ingredients that are grown sustainably, partnering with growers to ensure they earn a living wage and having access to education for their families, honoring and respecting employees and suppliers, and using green energy power sources whenever possible. The following chart depicts the contrast between a conventional supply chain and a fair trade supply chain: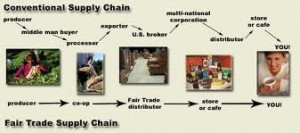 Matt Warning is a professor of economics at the University of Puget Sound. He has spent 25 years studying rural communities in Africa and Latin America. An authority on the economics of fair trade coffee, he has often been interviewed for articles in a variety of publications. He served as consulting producer for the PBS documentary "Buyer Be Fair" concerning fair trade coffee and certified wood. Professor Warning, who holds a PhD from the University of California, Berkeley,will speak about the conflicts in the African Great Lakes region, fair trade and its limitations, and quality as a necessary focus for sustainability.
Cherie Fontenot has worked for Theo Chocolate in Seattle for a number of years focusing on outreach work to bring the Theo message of Fair Trade to the public. Theo is the first and currently the only organic Fair Trade certified roaster of cacao in the United States, sourcing cacao from small farmers in the Dominican Republic, Ecuador, Panama, Ghana, Madagascar, Venezuela and the Ivory Coast. Ms. Fontenot will relate how Theo's small team is guided by a passion forchocolate, care for the environment, and dedication to enriching the lives of everyone involved, including cacao farmers and chocolate lovers.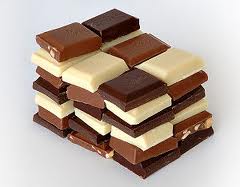 As an added incentive to attend, chocolate samples will be provided.