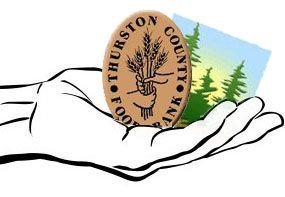 In 2008, the Thurston County Food Bank served a record 37,000 clients, a 39% increase from 2007. These numbers continue to increase, in 2009, as the global economic slowdown worsens. Our own St. Christopher's Community Church is a local distribution point for the Food Bank. Hunger is a local issue.
This Saturday, April 11, local residents will come together to collect food and cash donations for the Thurston County Food Bank. A collection point will be staffed from 11 AM to 5 PM at the Island Market, 3403 Steamboat Island Rd., Olympia, WA 98502.
Saturday, April 11
11 AM to 5 PM
Island Market
Food Donation Ideas:
High protein food such as canned chili, peanut butter, beans, or canned meat.
Pasta and Macaroni and Cheese.
Canned fruit and vegetables.
Soup.
Baby Food and Formula.
Fresh fruits and vegetables that store well in a refrigerator.
Cash and Checks (payable to "Thurston County Food Bank") will be greatly appreciated.
The Food Bank also has a "wish list" for supplies to support their FORKids program. This program provides weekend food for homeless and needy elementary school children. These children receive free breakfasts and lunch at school during the week and need nourishment for the weekend. The food is supplied by the food bank and put into the child's backpack for the weekend.
Oatmeal packets
Cup of Soup
Fruit cups
Small boxes of raisins
Vienna sausage
Beanies & Weenies
Cocoa mix
Cold cereal boxes
Easy Mac and Cheese
Tuna and Crackers
Cheese and Crackers
Ravioli cups
Cup of applesauce
Please, no peanut products, for the FORKids program.
Griffin area residents realize that hunger is a local problem and they are coming together, the day before Easter, to help neighbors in their time of need.