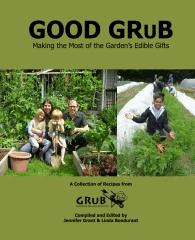 Overrun with zucchini? Too many tomatoes? Wondering how that innocent package of seeds or those vegetable starts turned into the bushels of produce filling your garden? Have no fear.
GRuB – Garden Raised Bounty – offers a fantastic new cookbook, The GOOD GRuB, Making the Most of the Garden's Edible Gifts, for your enjoyment. Take advantage of your garden's bounty with the GOOD GRuB cookbook. Packed with 240 tasty recipes, the chapters are organized by vegetable families to make finding that just right recipe quick and easy. Try dishes like Arugula & Beet Salad, Summer Vegetable Pie, and Zucchini Lasagna. Warm yourself up with Pumpkin Caraway Soup, Creamy Carrot Soup, or North African Stew.
Appetizers, beverages, breads, and desserts are among the recipes that round out the collection, all using fresh produce from the garden. There are also chapters devoted to fruits, herbs, and edible flowers, and one that will help you create gifts using garden ingredients. The final chapter, The Cook's Helpers, includes such helpful information as culinary terms, food equivalents, substitutions, and stocking the pantry. From Easy Tomato Sauce to Rhubarb Crumble, you are sure to find both old favorites and new winners in this collection.
GRuB is a non-profit organization working in Thurston and Mason counties in the South Puget Sound region of Washington State. Their mission is to inspire positive personal and community change by bringing people together around food and agriculture. To fulfill this mission GRuB partners with youth and low-income families to create empowering individual and community food solutions by offering activities, trainings, tools and resources to help build a just and sustainable food system. They are helping to create a community garden on our peninsula, at St. Christopher's Community Church.
Only $18 for this useful cookbook. All proceeds go to support GRuB's work with low-income youth and families in our community. Order your copy from Linda Bondurant, one of the compilers and editors, and a local Griffin Neighborhood Association member, at 360-866-1214. Or click here to go online and find out about GRuB and order your copy of the Good GRuB cookbook. Or contact GRuB directly at 360-753-5522, 2016 Elliott Ave NW, Olympia, WA 98502.