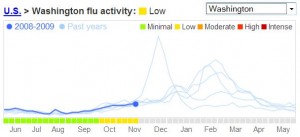 Dang. Like, is there nothing Google doesn't do? Today comes news that Google.org, a research arm of Google, has made public a site which can be used to track the local and national incidence of the flu. Interestingly, Google is claiming they can respond more quickly and thereby beat even the Centers for Disease Control (CDC), by two weeks, in tracking the spread of the flu.
Click here to visit the site where you can select Washington state and see a graph of reported incidence of the flu, as well as trend lines that represent flu outbreaks from prior years.
Make sure, if you visit this web page, to click on the drop-box and select "Washington" from the list of states. Otherwise, you're just looking at the graph for the entire U.S.
By all accounts, we're entering our flu season. The web site also hooks into the American Lung Association to help to provide you with local flu shot information, if you enter your ZIP Code into a search field. According to Google, the Rite Aid on Cooper Point Road will have flu shots November 18 from 2:00pm-6:00pm.