Residents attending the Community Meeting on January 31st heard from Griffin Fire Chief John Wood. Chief Wood also made available at that meeting copies of the Department's 2012 Annual Report. If you missed the Community Meeting, you can download your own copy of that Report by clicking here. It makes for interesting reading, particularly if you think ours is a sleepy little fire district which sees little action. According to the Report, "The Griffin Fire Department serves approximately 6000 people located in a 26 square mile area . . . and responds to approximately 450-500 calls per year."
The web site of the Thurston County Assessor, states roughly 8.25% of property taxes go to support local fire districts. In our area, that money supports a fire department which provides not only aid in time of emergency, but a variety of other benefits to the community. A glance at the Report's Calendar of Events page reveals a little of the community education activities the Department undertakes. Among its other activities, the Department provides fire prevention training for students at the Griffin School District and Steamboat Island Cooperative Preschool. A visit to the Fire Department's web site reveals also that the Department provides address signs to help identify homes, notary public services, blood pressure checks, and offers smoke detectors and smoke detector batteries. By appointment, you can also have your child's car seat and its installation in your car checked.
The mission of the Griffin Fire Department is "To promote, deliver, and preserve a feeling of security, safety, and a quality level of service to the citizens of our community."
In 2012, the fire district celebrated 50 years of service to our community. The Annual Report includes an interesting recitation of the history of the fire department.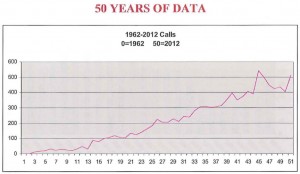 In 1968 the Department responded to its 100th call.
In 1978 they exceeded that number in just one year.
We commend the first responders, administration, and Commissioners of the Griffin Fire Department. The 2012 Annual Report provides a glimpse into some of the many ways the Department provides service to our neighbors.
For more information about the Griffin Fire Department, including information about how to volunteer to serve with the Department, visit their web site at http://www.griffinfd.org/