On February 1, 2010, the Griffin School District kicked off their participation in Thurston County's Food to Flowers program. Thurston County staff weighed all of the trash and all of the organics and other recyclables generated by the students in the lunchroom for the first 5 days of the program from February 1 to February 5, 2010.
The results are impressive. Students are doing a great job separating out food, soiled paper and other recyclables to be made into compost and other valuable products. As a result of their efforts, about 90% of what used to be thrown in the trash in the lunchroom is now being composted or recycled. For a full school year, that's about 12 tons of food and soiled paper and about 720 pounds of recyclables that are no longer being sent to the landfill. A graph illustrating this data is included below.
All of this and the program is just getting started. Kitchen staff are already separating out their organic kitchen scraps for composting and a bin for compostable material has been set up in the staff break room. The next steps in the program include collecting paper towels from the bathrooms and expanding the collection of recyclables in the classroom.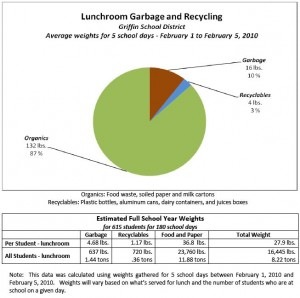 For more information on the Food to Flowers program, contact Peter Guttchen at (360) 709-3013, guttchp@co.thurston.wa.us, http://www.thurstonsolidwaste.org/