I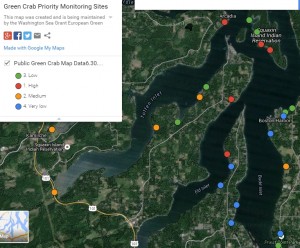 nvasive European Green Crabs could be coming to a beach near you!
The Stream Team is partnering with South Sound Estuary Association (SSEA) and a team from Washington Sea Grant and the University of Washington who are seeking volunteers to help monitor for invasive green crabs at sites throughout Puget Sound. If you are interested in monitoring local pocket estuaries this workshop is for you! The workshop will cover green crab life history, threats to Puget Sound, crab identification and instruction on monitoring protocol.
Tuesday, July 14th
6:00 – 9:00 p.m.
Olympia City Hall, 601 E. 4th Ave., Olympia
To register for this workshop, visit www.streamteam.info and click on "register". For more information, contact Michelle at mstevie@ci.olympia.wa.us  or crabteam@uw.edu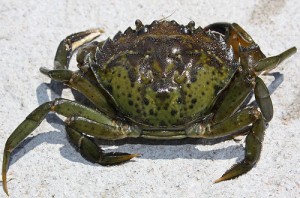 In 2012, an established population of the globally invasive crab was discovered in Sooke Inlet, BC, on the Strait of Juan de Fuca – the first time this species has been found in the Salish Sea. The presence of this invasive crab within the Salish Sea increases the chances that European Green Crabs could invade further into inland Puget Sound shorelines, where habitat is plentiful for green crabs to thrive.
Volunteers will be trained to conduct monthly (July-August) trapping and/or molt surveys for green crabs, and the other crabs and fish that live at select sites. All necessary equipment and training will be provided. Your observations will contribute not only to the conservation of Washington shorelines, but also contribute to research on our diverse pocket estuary habitats. Curious about whether your favorite shoreline might be good green crab habitat? Click here to see priority shoreline sites, including those on our own Steamboat Peninsula.