You are invited to join us this Sunday, July 30, for a community picnic at the Prosperity Grange and Tin Cup Golf Range!
There will be plenty of complimentary food, a showcase of local organizations and businesses, animals and activities for families, and a special musical guest.
Sunday, July 30
12 noon to 4 PM
Prosperity Grange and Tin Cup Golf Range
An illness prevents the Olympia duo, "Austin Radio", from appearing at this year's picnic. Instead, musicians Roger & Deb Hamilton will perform. Roger Hamilton crafts fine, handmade guitars at Hamilton Guitars in Rochester. Contact Roger at (253) 722-3442 or rahguitars@gmail.com for more information.
You won't want to miss the delicious seafood dishes served by Xinh Dwelley, proprietor of the fabled Xinh's Crab & Oyster House.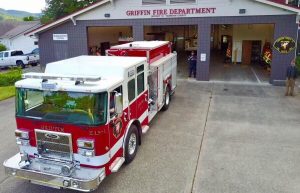 The Griffin Fire Department will hold a benefit car wash, this same day. Please come on by and get your car or truck washed, for a good cause.
Here's a sample of some of the organizations and local businesses who will be attending:
Olympia Synchronized Swim Club
Thrive Life
And many more!
If you are a new member who joins the Griffin Neighborhood Association, at the picnic, your name will be entered into a drawing to win a $25 gift certificate donated by Character's Corner.
The Olympia Host Lions Club are raffling off a 40-pound box of fresh fuji apples, to be delivered in October. Make sure you stop by their table to get entered into the raffle.
Special thanks to our event sponsors:
Steamboat Trading Post
Thurston County Explorer Search and Rescue
Tin Cup Driving Range
Xinh Dwelley
Lots of opportunities still exist, if you are able to volunteer to help with this event. There are tasks that take little time and people are needed to work for as little as an hour or so, the actual day of the picnic. For information about how you can help, please contact Becky at FurAcres@gmail.com
Bring your family and visit with your neighbors, enjoy a delicious meal, and listen to the sounds of Austin Radio at this free community event.