On June 19th, the Griffin Neighborhood Association hosted a Town Hall on roadway safety in the Steamboat Peninsula/Griffin area. We want to begin our wrapup of that meeting by thanking Scott Davis, of Thurston County Public Works, for his great presentation on roadside safety, and for all of the Public Works Departments' good work in keeping our roadways well maintained and safe to drive!
During the Town Hall, Scott Davis provided a great deal of information including the chip seal schedule for local road maintenance and information on other current Thurston County roadway projects.
Mr. Davis also suggested ways the public can report any suggestions or complaints directly to Thurston County Public Works. Thurston County does not monitor Nextdoor or other social media. But you can report issues and also transmit 'thank you's' and other notes of appreciation, as well, online at https://www.co.thurston.wa.us/publicworks/onlinerequest.html or by phone at (360) 867-2300. Normal office hours are 8 AM to 5 PM Monday through Friday. 
"Because of the need for fast response, we ask that you do not report missing or downed stop signs using the online form. Instead, please call us directly at (360) 867-2300 during business hours. After hours you can report missing or downed stop signs using the Thurston County Sheriff's Non-Emergency line at (360) 704-2740."
During regular business hours, you may report road blocking hazards (for example, large tree limbs or flooding) either online or at (360) 867-2300. After hours, reports of blocking hazards should be made to the Thurston County Sheriff's Non-Emergency line at (360) 704-2740.
We learned that Public Works crews do not respond to calls to remove deceased domestic animals or small wildlife from the right of way. For that, contact Animal Services at (360) 352-2510.
2019 Chip Seal Information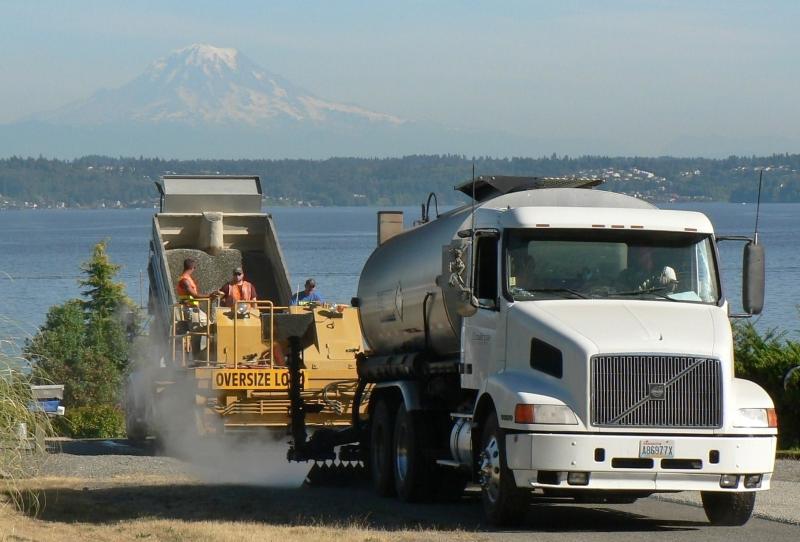 Chip sealing is a process where roads are coated with a thin layer of liquid asphalt and gravel chips. When complete, treated roads become skid resistant and more resistant to water penetration. According to Thurston County's web site, the life span of a road with chip seal treatment increases by about eight years when compared to roads without it. The work is usually performed on roads in good condition, in order to keep them from falling into costly disrepair.
In 2019, Thurston County will be focusing on chipsealing roads in the Northwestern portion of Thurston County including areas of Steamboat Island, Summit Lake, Cooper Point and parts of Delphi Rd. A downloadable map of roads to be chip sealed is available here. For our area, "The current plan is to start at the north end of Steamboat Island Rd, do the main road, and then the side roads on the list."
Please remember to be kind and patient to roadside workers as they make improvements to our neighborhood roads this summer. A small note of gratitude goes a long way.
Doolittle Construction was low bidder for chip sealing, at $1,937,993.
Click here to see more information about the County's chip seal program, including updates and lists of roads that are to be chip sealed. And click here to learn more about travel impacts as the project proceeds. 
Regional Traffic Studies
Thurston County, Olympia, and the Washington State Department of Transportation (WSDOT) are studying traffic and planning improvements which will impact residents in the Griffin area. Among these are projects that will improve access to West Olympia and install the state's first "diverging diamond interchange" at Marvin Road and I-5. Traffic along I-5 is also being studied and information regarding the regional transportation plan is available online.
US-101 & West Olympia Access Project (Study)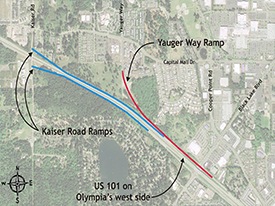 Olympia's west side is a regional shopping and services destination. Capital Mall, the surrounding commercial area and health care facilities including Capital Medical Center, all draw traffic from adjacent communities. The commercial and medical hub is served by one key interchange at Black Lake Boulevard/US-101. The resulting traffic congestion raises concerns about how to maintain mobility to and through west Olympia in the future. Olympia has been working with WSDOT and key stakeholders to improve access between US-101 and west Olympia.
Planned improvements include a westbound off-ramp and eastbound on-ramp at Kaiser Road and an off-ramp extension in the westbound direction at Black Lake Boulevard that would connect to Yauger Way.
Click here to view studies and other project related information.
Marvin Road & SR510 Interchange Upgrade (Exit 111)
Crews are in the process of reconfiguring the interchange to create a diverging diamond interchange. The rebuilt interchange is intended to help ease congestion and reduce the potential for crashes. The project will be constructed ahead of planned major development in Lacey north of I-5. Click here for more information on this project.
Interstate 5 Tumwater to Mounts Road Corridor Study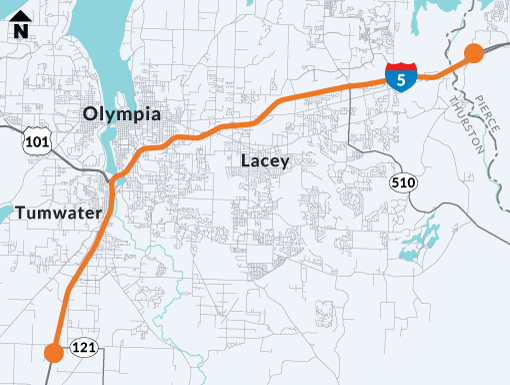 WSDOT is studying transportation system performance on I-5 through Tumwater, Olympia, and Lacey in collaboration with local partners. The study area extends from the SR 121/93rd Avenue SE/Tilley Road Interchange in Tumwater to Mounts Road just east of the Nisqually River. This segment of highway travels through Tumwater, Olympia, and Lacey and is a major freight and commuter corridor. This section of I-5 experiences congestion, recurring delay, and unreliable travel times. Multiple factors contribute to these issues such as traffic volumes and merging at interchanges.
WSDOT's goal is to recommend a set of performance-based strategies to achieve the following outcomes in the study area over the next 20 years:
Improve travel times and make them more predictable
Increase the ability of I-5 to efficiently and equitably move people and goods
Improve access to industrial and commercial areas and job sites
Protect and enhance the environment including reducing the transportation-related impact on wildlife habitat in the Nisqually River delta
Improve the transportation system's ability to operate during and recover from disruptions such as traffic incidents
Click here for more information on the Tumwater to Mounts Road Corridor Study.
Thurston Regional Transportation Plan
The Regional Transportation Plan (RTP) serves as a strategic blueprint for the region's transportation system. It provides an overall analysis of how transportation will work in the region over a 20-25 year time frame and supports coordination among jurisdictions. It also acts as an important tool in meeting state and federal transportation requirements, ensuring continued funding from these sources. The RTP identifies those projects and issues that change the way traffic flows throughout the region, complementing the local planning that makes the roadway network function within each jurisdiction. This plan addresses the diversity of our region – rural communities, city centers, and outlying suburban neighborhoods. Each has differing issues and priorities as well as common needs and objectives.
Click here for more information on the Thurston Regional Transportation Plan.