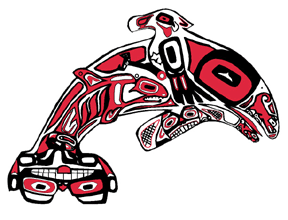 Indigenous peoples have inhabited the southern Puget Sound area for many centuries.
Prior to the arrival of Euro-Americans, indigenous peoples inhabiting Puget Sound had a vibrant culture and relatively dense populations. They were maritime peoples who called themselves "People of the Water". Puget Sound was sacred. It also served as their basic means of transportation and a source of food.
Prior to the Medicine Creek Treaty of 1855, native peoples living in southern Puget Sound were known by the inlet on which they lived. A separate band of native peoples occupied each inlet. They were known by the name of their inlet. People living along both shores of what is now called Eld Inlet were known as the Squi-Ailt. People living along both shores of what is now called Totten Inlet were known as the T'Peeksin. The Squaxin Tribe was formed after the Medicine Creek Treaty from seven separate, but closely related, bands of native peoples living on seven separate inlets in southern Puget Sound.
During the cold weather season, members of each band lived in a large cedar long house in a more or less permanent village located at the sheltered end of their inlet. These were the times when members of the band lived communally, repeated their legions and stories, and instructed their children in tribal ways. During the warm weather season, families units from each band fanned out along both sides of their inlet and lived in less permanent dwellings. They harvested the bounty of the inlet and prepared for the next cold weather season. Proximity to fresh water was a prerequisite for locating a permanent cold weather village and the more numerous, transitory warm weather sites.
One of these winter village sites for the Squi-Ailt was at the archeological dig on former Secretary of State Ralph Munro's property located on the eastern shore of Mud Bay near the southern end of Eld Inlet.
T. T. Waterman was a noted anthropologist at the University of Washington during the early years of the 20th century. He met with tribal elders in southern Puget Sound in 1910 and recorded important sites. More than 33 of these sites were noted on the Steamboat peninsula or Griffin area.
Waterman noted the abandoned site of a "large and thriving" village at the southern end of Mud Bay, a little north of the modern-day intersection of Delphi Road and MacKenzie Road. He failed to note the site of the archeological dig at Ralph Munro's as being the site of a village, although he mentioned the three creeks on Ralph Munro's property. Apparently, the village site mentioned by Waterman had succeeded the earlier village site at Munro's property, although both sites were abandoned by 1910.
Perry Creek was known as "Balablts" or on the side toward the spring. It is noted as being a "large creek flowing into a cover".
Rocky Point is also called Maple Point and was called "TsEbtsEdid" which suggests dancing place or "elderberry place".
Young Cove was called "q!abt!o" or "abounding in food".
Flapjack Point was noted as being prominent and was known as "qwet qs" or down-stream promontory.
Fry Cove was noted as being a very narrow cove that was known as "Tu caix" signifying an edible root that was dug by Native peoples. This may have been Camus.
Sanderson Cove was described as being a very narrow cove known as "Tu qwa'lot sid" or "fish trap at its mouth". A weir was built across the mouth of the inlet that would trap fish when the tide receded.
Hunter Point was known as "Djie' kclL" which means "foot". Presumably this meant wet foot describing waves that rush up to the foot of the cliff, fall back, and then rush up again.
Sandy Point, near where the bridge to Steamboat Island is located, was known as "CxwE' tsugEL" which suggested sharp breath.
Steamboat Island was known as "SxetElp" or "pushing off from shore", presumably referring to the appearance of the island as though a canoe was leaving the mainland. It is fitting that one of the modern rationales for naming the island Steamboat Island is that the island resembles a steamboat.
Gallagher Cove was known as "Bicola'lala" or "a place with many cattail rushes". Cattails were very important for weaving baskets.
The promontory at northern point at the northwest end of Gallagher Cove was known as "hwEts – toi'q – stEb" which means "sharp prodding". This relates to the belief that a storm will be caused if anyone pokes the bottom of the inlet there with a pole or paddle.
Burns Point was known as "T!EbE' x" which means "gooseberries".
— STEVE LUNDIN
Copyright 2011 by Steve Lundin
Steve Lundin is a long-time resident of the Griffin community located in northwest Thurston County.  He received a B.A. degree from the University of Washington and a J.D. degree from the University of Washington Law School and is now retired as a senior counsel for the Washington State House of Representatives after nearly 30 years.
He is recognized as the local historian of the Griffin area and has written a number of articles on local history and a book entitled Griffin Area Schools, available from the Griffin Neighborhood Association at a cost of $10. 
Lundin also wrote a comprehensive reference book on local governments in Washington State entitled The Closest Governments to the People – A Complete Reference Guide to Local Government in Washington State.  The book costs $85, plus shipping and handling.  It is available on the web from the Division of Governmental Studies and Services, Washington State University, at http://dgss.wsu.edu/ or from WSU Extension at www.pubs.wsu.edu . 
Click here for more articles of interest, regarding local history.