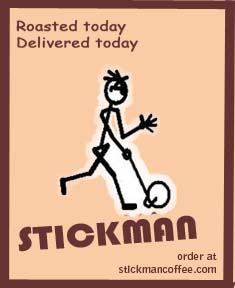 Recently, you probably noticed a stand was set up by the side of Steamboat Island Road at the US-101 overpass. Folks stopping at the stand had an opportunity to taste locally-roasted coffee, being offered for home delivery by Stickman Coffee. Stickman Coffee is the brainchild of local resident Kenneth Albert.
"Most people my age started drinking percolated diner coffee with a Wonder Bread and Velveeta sandwich," says Mr. Albert. "I remember more than one such meal on my way across the country to New York to catch a flight to Amsterdam."

"In Europe, food, drink and especially coffee were very different than what I had enjoyed next to the pie rack at the diner counter. I returned, like many other travelers in the late 60's, with a radically altered idea of what I preferred to eat and drink."
"Since those days, our choices have expanded to fit our more varied tastes. Eating and preparing things to eat has been one of my main hobbies for forty years. When I found in the mid 90's that it was possible to roast my own coffee, it was a natural addition to my food activities."
The Internet has allowed people to find each other in online communities and share knowledge of their hobbies. So it was with the home coffee roasting community. As a result, "Home roasting has become extremely sophisticated," says Mr. Albert.
"Because home roasters work with such small batches, they are able to experiment often with ingredients and technique. They often taste a greater variety of blends and brews than many larger commercial roasters. This gives them obvious advantages if they become commercial roasters. Coincidentally, that description fits me perfectly. I am shamelessly blowing my own horn, but I do believe that there are many home roasters today who have attained a very high level of coffee roasting skill. If you can find one who has recently opened his own business, chances are good that his product will be tasty."
Those of us, of a certain age, will remember a time when home delivery was common. The web site for Stickman Coffee presents a compelling argument for home delivery of locally-roasted coffee.
Coffee has a strong aroma because it gives its goodness up to the atmosphere so quickly. It has lost many of its best qualities within ten days of roasting.
Stickman Coffee roasts on Mondays and Mr. Albert's goal is to deliver, within the Steamboat area, the same day.
Stickman Coffee offers organic, fair trade beans when they are available.
You can purchase Stickman Coffee online or with a phone call to (360) 866-8614. Customers can set up an automatic schedule so they never run out and seldom have to re-order. If you are going on vacation, you can put your order on hold by email or by phone.
Give Stickman Coffee a try. Home delivery of freshly-roasted, high quality Arabica beans sounds like another fine benefit of living in the Steamboat area.