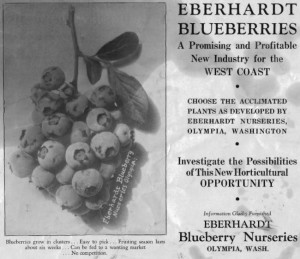 A group of students have undertaken a small ecological assessment of the Eberhardt Blueberry Farm. "We picked the blueberry field because of its evident diverse history," writes Jana Raines, a student at The Evergreen State College. "Having gone from a thriving farm to naturalizing back to its current state makes it a fascinating location." Raines and three others working on this project have already looked at the plant life, birds and animals in the area where the blueberry farm was located. But they need a little more historical information. Among those people living in the Steamboat area are a small number of folks who bought from or worked for Floyd and Laniera Savage, owners of the Eberhardt Blueberry Nurseries.
Would you be able to help Jana Raines answer a few questions about the blueberry farm?
When was the blueberry farm planted?
How long it was it in business?
How large is (or was) the blueberry farm?
When or how long ago was the blueberry farm abandoned?
If you have information to share about the history of the Eberhardt Blueberry Farm, please contact Jana Raines by email at seekeroflife@gmail.com or by phone at (360) 689-4888.