Local residents on the Steamboat Peninsula have a new choice for their morning coffee, tea, and pastries. The coffee stand at 6233 Steamboat Island Road changed hands last December. It acquired a new name – the "Luna Sea Café" – and owner Leah Polhemus comes with some serious food service credibility and plans for dramatically improving the scope of the dining offered at this roadside location.
Originally from Alabama, Leah first came out to Washington 13 years ago. Although she eventually moved elsewhere, "I always make my way back here," she says.
"I love this neighborhood, I think it's a great community, but there are not many food service options in the area," says Leah. "For now I am serving espresso drinks – hot, iced, or blended – hot tea, and my pastries, which are always made from scratch, but I hope to have more food and beverages available as I am able to grow and expand." When asked about her expansion plans, Leah answered, "My ultimate goal is to be able to grow into a full-service cafe. I live out here too and I know myself and a lot of other folks who live out here would love to be able to get a good meal without having to drive thirty minutes each way to get it!"
One of the things that sets this café apart is Leah's homemade syrups. "I have my own real vanilla bean syrup, I make my chocolate sauce with pure dutch-process cocoa, I make a brown sugar salted caramel sauce and I make my own chai syrup as well, and I am always experimenting with new and interesting flavor combinations. So far the vanilla bean syrup has been really popular, as well as my lavender mocha."
Food-wise, among the best offerings are the bagels. They are made from scratch, boiled in honey and molasses and served toasted with homemade garlic and herb cream cheese. Leah also offers a variety of muffins, scones, croissants, danishes, coffee cake, cookies, granola bars, and biscuits.
That's a lot for that little café. "I am willing to taking suggestions for food people might want to have out here; I can do pretty much anything!"
Yeah, but how about the coffee? "I am so proud to be using coffee from local roaster Olympia Coffee Roasting Company," says Leah. "They were named Roast Magazine's 2013 Micro Roaster of the Year. Olympia is so lucky to have such a great local coffee roaster." Olympia Coffee Roasting also took the time to give Leah an education about the coffee industry and her brew comes out of a top-of-the-line handmade Italian brand La Marzocco espresso machine.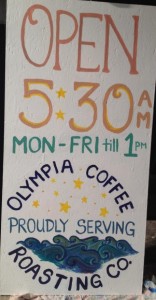 What about the name, 'Luna Sea Café'? "I have to credit one of my roommates with the name. We were sitting around the night I bought the stand and throwing around all sorts of ideas and silly names for it until he threw 'Luna Sea' out there. It just really felt right. I have always been a little out there I guess, some people have even called me crazy, and I have a tattoo of crescent moons on my shoulder, so it just seemed fitting. I mean, who doesn't love a good double entendre?"
The Luna Sea Café is open Monday through Friday from 5:30 am to 1:00 pm. Leah hopes to extend her hours and open weekends by the spring or summer with more options available such as homemade ice cream, real fruit smoothies.
"I really hope to have a BBQ pit or at least a grill by then so I can offer some slow-cooked meats with my homemade breads, which is just about my favorite thing in the world to eat."
We hope you'll join us in welcoming the Luna Sea Café to the Steamboat Peninsula. They're located right out in front of the Skookum Creek Outlet store at 6233 Steamboat Island Road. Please stop by and say hi! And, like them on Facebook.