As some of you may be aware, Mason Transit Authority operates bus service between Shelton and Olympia. Service runs Monday through Saturday. This is Mason Transit's Route #6. On this route, a "call-requested" stop is available on the Steamboat Peninsula. This means riders can contact Mason Transit at 360-427-5033 and request that a bus pull off US-101, either heading to Olympia or to Shelton.
When you are heading from Olympia to the Steamboat Peninsula, you can simply ask your driver to make the stop at Steamboat Peninsula.
The bus will stop at different locations, depending on whether you are heading to Olympia or heading toward Shelton.
If you are heading to Olympia, the bus will stop at the corner of Whittaker Rd. NW/Steamboat Island Rd. and Old Highway 101 NW. In the illustration below, you can see the little blue bus symbol marking that location.
If you are heading to Shelton, the bus will stop on Sexton Dr. NW, in front of the Island Market.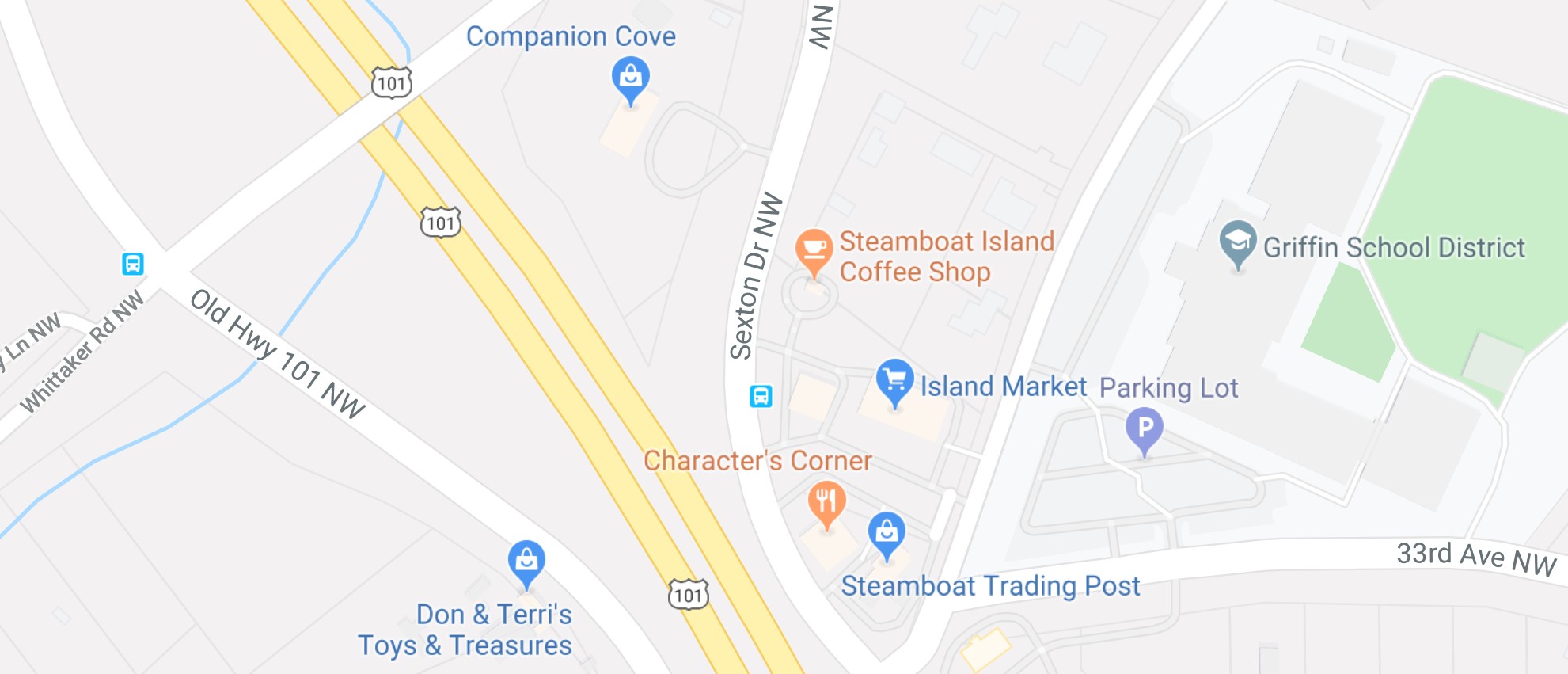 At the current time, the schedule for this service along US-101 starts weekday mornings with the earliest call-requested stop on the Steamboat Peninsula at about 9 AM. Saturday service begins at about 8 AM.
To estimate the Steamboat Peninsula arrival times when heading to Olympia, just add about 5 minutes to the time at the Kamilche Transit Center, on the chart below.
Click here to see the timetable for Route 6, heading from Olympia to the Steamboat Peninsula. For this trip, subtract about 10 minutes from the Kamilche Transit Center arrival time, just to be on the safe side.
Mason Transit is now proposing to expand their service in our area.
If the proposal is accepted, the number of times you can take a bus will expand dramatically. See the proposed timetables below.
A series of two public hearings is scheduled to receive comments on the proposed service changes. A hearing will take place in Shelton on Tuesday, December 10. Click here for details, if you would like to attend the hearing.
If you do not want to attend the hearing, but have questions or wish to file a comment about the schedule change, you may do so until 4 PM on Friday, December 13. These can be sent to Trina Gwerder, Mason Transit Operations Assistant Manager, at 360-432-5725 (Fax: 360-426-0899) or email at tgwerder@masontransit.org.
If the changes are approved, the new schedule will begin on Monday, February 3, 2020.
As you can see, the proposed schedule will allow riders to take a bus to Olympia, where they can transfer to another bus and arrive at business locations in time for typical morning start times. Where can such a transfer take you? Common destinations include Capital Mall, South Puget Sound Community College, The Evergreen State College, and many other points in Olympia, Tumwater, and Lacey. The chart below depicts just some of the destinations available with transfers through the Olympia Transit Center (OTC).
If you are a state employee, you have access to the STAR Pass program. The State Agency Rider (STAR) Pass entitles you to unlimited fare-free rides on any Intercity Transit, Mason Transit, and Grays Harbor Transit bus, including dial-a-lift service. Click here for more details.
We applaud Mason Transit for their proposed improvements to bus service to and from the Steamboat Peninsula. We hope that local residents will make their opinions known, before the deadline on December 13.