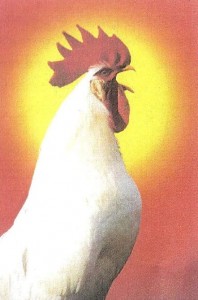 Local residents Jason Jurst, Jen Johnson, and Iris Johnson Hurst operate Building Earth Farm, located in the 9100 block of Steamboat Island Road NW. Building Earth Fam provides naturally raised meat and eggs. Harvest dates for their boiler chickens are coming up soon and they are taking orders for those as well as grass-fed lamb and holiday turkeys.
Building Earth Fam was started in 2007 by Jason Hurst and Jen Johnson. This ten-acre organically maintained farm is in its third year of producing fresh pastured poultry and eggs. In 2010 they are introducing turkey and lamb production to their farm.
They are excited to be adding to the economic vitality of our community, and to the health of both their family members and the families of other residents in the Griffin area, through sustainable, organic agricultural practices.
Building Earth Fam raises egg layers, broiler chicken, turkey and lamb. Their animals are raised without antibiotics or hormones; outdoors on pastuer, connected with the ground. The chickens adn turkeys are also fed organic grain.
Their egg layers get plenty of fresh air, sunshine, grit and bugs and you can tell that when you eat the eggs; full of flavor with deep golden yolks. Eggs are available for pickup at the Farm most times of the year, and from the Madrona Grove Summer Fruit Truck through September, for $4 per dozen. Give them a call at 867-9331 to find out when and where to pick up your farm fresh eggs.
Broiler chicken harvest dates are:
July 23, 24, 25
August 27, 28, 29
October 1, 2, 3

Harvest dates for grass-fed lamb are in September and October.

Holiday turkeys are available in mid-November and mid-December.
Click here for an order form with more details on the harvest and how you can pick up your order. Also included in the download is a form you can complete to request further information about Farm offerings and projects including Supper Club dinners and cob building workshops.
Building Earth Farm
9140 Steamboat Island Rd. NW
Olympia, WA 98502
867-9331
Text is from the Building Earth Farm flyer, which is distributed at local businesses and available directly from the Farm.