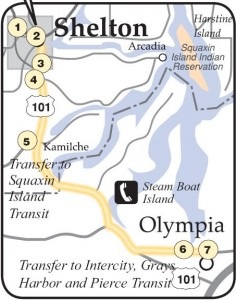 Some local residents came together, earlier this week, to discuss ways in which public transportation options into our area might be improved. Among the steps discussed were the creation of a part-and-ride and service by Intercity Transit, between the peninsula and points in West and Downtown Olympia. Until such time as there are better transit services, however, there are existing options about which residents here might not be aware.
BUS SERVICE
Mason County Transportation Authority runs a route from Shelton to the Capital Mall, and on into the Olympia Transit Center, 10 times each weekday and four times on Saturdays. This is MTAs Route 6, which makes the run from the Island Market to the Olympia Transit Center in 20 minutes. There are only two regularly-scheduled stops, at the Island Market, in the early morning. But, with a phone call to MTA, riders can request stops during any of the other right runs of the day.
Call the MTA Customer Service Center at least two hours before the approximate pick-up time to request a stop. Their phone numbers are (360) 427-5033 and 1-800-374-3747. Office hours are Monday thru Saturday 7:30 AM – 6:30 PM.
In the list below, call/request times are estimates and you should confirm these times, with MTA, when you call to request a stop.
To Olympia from Steamboat:
6:20 am (scheduled stop)
6:50 (scheduled stop)
8:30 (call/request)
11:00 (call/request)
12:25 pm (call/request)
3:05 (call/request)
4:05 (call/request)
5:05 (call/request)
6:05 (call/request)
7:05 (call/request)
To Steamboat from Olympia
(All stops at the Island Market only occur when rider asks the driver to make a Steamboat stop.)
7:15 am
7:35
9:30
11:55
1:20 pm
4:05
5:00
6:00
7:00
8:05
Fares are $1.50 one-way and monthly passes are available for $28 ($18 for ages 6-17). Reduced rates are available for seniors, active military, and disabled persons.
All Mason Transit vehicles are equipped with bike racks.
VANPOOL
Intercity Transit runs a successful vanpool program. IT owns, maintains, manages, insures and licenses a fleet of 8-, 12- and 15-passenger vans. IT can help locate commuters who want to start or join a vanpool. Many employers subsidize the cost of vanpool service to Olympia. To find a vanpool, complete a Ridematch Application or call IT at 360-786-8800. Click here for more information on vanpooling options.
FUTURE TRANSIT OPTIONS
A group of local residents is working to identify opportunities to enhance the availability of transit alternatives into our area. Options include polling residents as to their interest in improved bus service, creating a local park-and-ride lot, and promoting currently-available transit options.
If you are interested in helping to improve transit services to our area, contact the Griffin Neighborhood Association at gna@griffinneighbors.org

What transit options would you like to see? Click on the "Comments" link below and give us your thoughts.