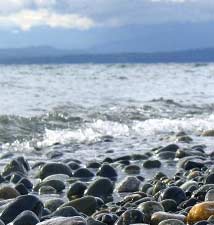 The Puget Sound Partnership, a community effort of citizens, governments, tribes, scientists and businesses working together to restore and protect Puget Sound, has recently released a draft Action Agenda to restore the health of the Sound by 2020.
A public comment period on the content of the draft Agenda ends this Thursday, November 20. The Partnership is working to prepare the final version of the Action Agenda for release on December 1, 2008.
Click here to download a copy of the 94-page Agenda. Then, click here to submit a comment.
The agenda includes important suggestions regarding what ordinary people and homeowners can do, to help improve the health of the Sound. Many of these we've seen before.
Some easy steps you can take to clean things up:

Vehicle Operations

What comes off and out of your car makes its way into Puget Sound

Drive less
Check for leaks
Use substitute for copper break pads
Ask for steel tire weights instead of lead

Fertilizers & Herbicides

What does not get used up by plants makes its way into Puget Sound

Pull and smother weeds instead of spraying
Follow package directions exactly
Improve soil
Use native plants

Car Washing

What products (soaps, waxes, cleaners) you use wash into Puget Sound

Use commercial car washes
Wash on pervious surfaces like a lawn
Use car wash kits for charity car washes

Pet Waste

What is left on the lawn will be washed into Puget Sound

Scoop your poop and put it in the trash!

Household Products/Chemicals

What goes down your sink, toilets, and drains makes its way into Puget Sound

Choose least toxic alternatives for household cleaners
Use more elbow grease, less chemicals
Use your local waste facility to dispose of chemicals properly

Septic Systems

What a septic system cannot handle makes its way into Puget Sound

Maintain your septic system
Do not overuse or abuse its abilities (toilet paper only)
Fix failing septic systems
The Agenda defines specific indicators and benchmarks to answer the question "How will we hold ourselves accountable?" (page 10). Among these are a target for "Net increase of 10,000 acres of commercial shellfish growing area open for direct harvest based on improved sanitary conditions."
Futurewise, a public interest group, has released a notice to its members which reads, "I hope you'll agree that the Partnership has gone a long way and deserves praise. While we applaud their effort thus far, we also believe the Action Agenda can and must be improved. The Partnership must clearly identify benchmarks and sustained funding to get us to a healthy Puget Sound by 2020. Further it should build off our existing community protections and take advantage of the region's recent vote in favor of expanding light rail."
This is a hefty Agenda, but folks in the Griffin area have an abiding interest in the quality of the Sound, share responsibility for the health of the South Sound, and many of us benefit in many ways – economically and in our quality of life – from the presence of the Puget Sound. Recent alarming reports of the probable deaths of 7 orcas, in the north Sound, highlight the critical situation which presently confronts us.
Local residents would do good to keep up on the activities of the Puget Sound Partnership and encourage our elected officials to take an active role in implementing provisions of the final Agenda.
In what ways do you support this Agenda or believe the Agenda does not merit your support? Click the "comments" link below and leave your comments.