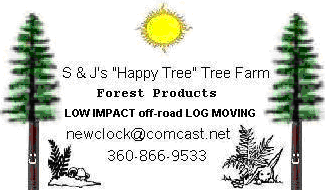 We are Sue and John Yoachim and are recently retired. We have lived on five acres on Young Rd. since 1992 and were able to acquire the adjoining fifteen acres of forest in 2002. We call our 20 acre family forest, S&J's Happy Tree Tree Farm; specializing in low-impact off road log moving. We took the Department of Natural Resources Stewardship Forest Classes in 2002 (from DNR's-Small Forest Landowner's Office). Through this set of classes and our involvement with Washington Farm Forestry Association we learned of several opportunities available to small forest land owners. These include the county's Open-Space Timber Tax Program, WSU Extension services and even becoming certified through Forest Stewardship Council® (FSC-C008225).
After attending several Forest Field days, we came across the solution to the problem of how to harvest without tearing up the land or using large equipment. Mark from Oregon invented and built several Arch devices to carry logs in a low impact way. The arches are currently manufactured on the East coast by Log Rite. We have three arches, the Forwarding Arch, Mark-7, and Jr., and quite a bit of experience using them; both on some customer jobs as well as to accomplish the moving (and stacking) of 54 logs on our landing for our first harvested truck load.
We use our ATV (in low) to move logs as long as 41′ 4″ or as big as 24″ diameter with the forwarding Arch upfront, and the Mark-7 or Jr Archie as the trailer wheels. The amount of impact on the land and trees is exceptionally low.
Some natural slope issues can present problems; but we have come to see this as an opportunity to use our wenches; we have two kinds, a capstan gasoline and a Honda electric wench. Between the gas powered continuous rope wench and the electric cable wench (with portable battery), we has been able to retrieve logs from every situation.
Even John was a doubter as to the practical limits of this equipment to safely move logs; but now he is a true believer and we feel comfortable making our services and expertise with this equipment available to the community. We can move a log from one part of your land to another. Our equipment also does a good job of helping to safely bring down small to medium leaners.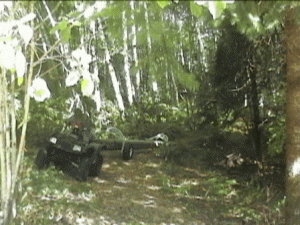 What we do not do, is cut down difficult trees, or transport logs to the mill. But after a wind storm we can haul what mother nature caused to fall. We can move large pieces to where others can get at it or where it can be chopped up later. We try to have safety as our first priority. We have gathered a lot of tools to help us; PV's, chains, nose cone, and a trailer to haul it all around in.
We are happy to join the small business community in the Griffin area.
Washington Farm Forestry Association – South Sound Chapter
contact is Ken Miller at (360) 705-1888. The Chapter meets the 2nd Wednesday of each month.
DNR Small Forest Landowner Office – Stewardship Forester contact is Mike Nystrom at (360) 825-1631.
– SUE AND JOHN YOACHIM
S & J's "Happy Tree" Tree Farm
Forest Products
Low Impact Off-Road Log Moving
newclock@comcast.net
(360) 866-9533