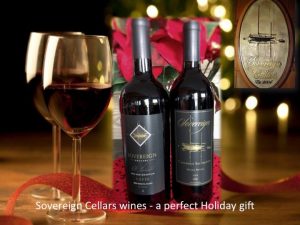 Dennis Gross, winemaster at Sovereign Cellars asks, "What better way to celebrate the season than with fine wines from Sovereign Cellars for your table or as a gift? All of our award winning wines are now 20% off!"
This local winery is open through December.
If you are interested in purchasing wine, simply call or email Sovereign Cellars. Or just come on over.
Happy Holidays, from our local winery, Sovereign Cellars.
Sovereign Cellars
(360) 866-7991
dwgrosswine@yahoo.com
7408 Manzanita Dr. NW, Olympia