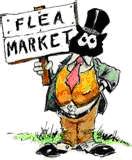 St. Christopher's Community Church is holding their 2nd Annual Flea Market and Yard Sale on Saturday, August 9. All types of vendors are welcome and expected. Folks are invited to come and, for a small fee, they can set up and sell their new or gently used items. This is a great fundraiser for St. Christopher's and a terrific opportunity for neighbors to sell and find reusable items.
Date: Saturday, August 9th, 2008 – rain or shine
Time: 9 am to 3 pm (Spaces must be cleared by 4 pm)
Location: St. Christopher's Church 3320 79th Ave. NW off Steamboat Island Rd.
Booth Description: Outdoor on grass 10′ x 10′
Event Description: All types of vendors are welcome and expected.
Cost: $15 for booth space before July 31st, after July 31st prices increase $5
NO REFUNDS
Tables and Canopies Rental: There are a limited number of tables and canopies for rent for $10 each on a first come basis. Two chairs will be provided with each table.
Set-up: Set-up will begin at 7:30 am Saturday morning. NO SET-UP FRIDAY NIGHT.
All participants MUST clear and haul away any remaining items at the end of the day. St. Christopher's will not be providing disposal or transporting of any remaining items.
Weather: Plan for any type of weather. This event will be outside rain or shine. Canopies are recommended.
Call: 866-2111 or e-mail saintchri@aol.com
Do you have gently used stuff to give away, but don't want a booth? Please consider donating it to St. Christopher's to sell at their booth. Call 866-2111 or e-mail saintchri@aol.com.
Help promote this community event! Click here to download a copy of the event flyer and give a copy to your friends and neighbors.