From St. Christopher's Community Church, we get news that they've broken ground on their new parking lot and a driveway. The driveway from Steamboat Island Road to a parking that will serve the church and its new "community center" expansion. But, there are "miles to go" before this project, which will build a real community center on our peninsula, is complete.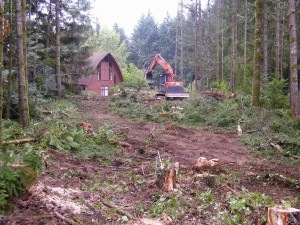 Now is the time for homeowners in the Griffin Area to step up and support this important community asset. What St. Christopher's has designed is a highly-configurable, highly accessible resource for our community. This is a facility that can support community groups, scouting groups, classes and events. This community center could serve us in time of natural disaster. But we cannot assume it's going to be built solely with the financial resources of St. Christopher's congregation.
Please contribute to St. Christopher's fundraising efforts for their community center. We've written about this in the past. Click here to read that prior posting.
Click here to see an artist's rendering of the completed project.
Your tax-deductible gift can be mailed to:
St. Christopher's Community Church
Steamboat Island Community Center
3320 – 79th Ave. NW
Olympia, WA 98502-9960
I'm proud to say that I've made a contribution and I know a few others within the Griffin Neighborhood Association have done so, too. Please join us now in financially supporting St. Christopher's Community Church.
— MARK MESSINGER
Have you contributed to St. Christopher's fundraising? Or, why not? Add your comments by clicking on the comments link below.