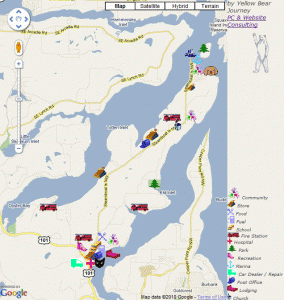 "Steamboat Island Road" features
an interactive map
Hi Neighbor! For many living on the Steamboat Island Peninsula, it's hard to get to know your neighbors. Sure, you may know a few people on your street, but beyond that, how many people do you know on the peninsula? Many people spend more time off the peninsula than on it. But they would still like to know more of their neighbors, buy from businesses and garage sales on the peninsula, and attend local events.
Finding myself in similar straits, I created a website to help.
Steamboat Island Road Website – http://steamboatislandroad.yellowbearjourney.com/
This directory is for everybody in the Steamboat Island area, just outside of Olympia, WA. It will allow the people, businesses, non-profits, and communities of the Steamboat Island area to network, collaborate, and buy local.
If you want to post your business here, contact us with business title, category, and contact info. Contact info can include website, address (only if customers are coming to your door), phone, and email address. If you don't have a website, we can help you create it.
Business listings are $72/yr. Discounts may be available. Key businesses and non-profits receive free listings, but are encouraged to support this website by purchasing their listing. All businesses listed on this website are listed in the directory. Businesses that have customers coming to their door also get listed on the map.
We also encourage you to join the Griffin Neighborhood Association, which is involved in similar efforts.
Please send us your Event, For Sale, Wanted, and Free postings. Include the Item, the Price, if you want it or are selling it, and contact info. Postings are a minimum of $1 and a maximum of $5 depending on the price. Garage sale postings are $5. All postings submitted and paid for will be posted within two weeks.
Advertise here. There is one spot on the main page that goes for $20/month – first come first serve. Additional add spots are available on a second page for $10/month. These prices are for businesses on the peninsula. Prices are double for other businesses.
Dale Stubbart dale@yellowbearjourney.com
Certified Deep Green to save energy while you surf the web.