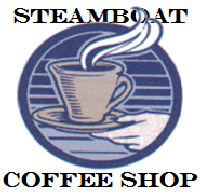 The Olympian is reporting that thieves broke into the Steamboat Coffee Shop this last Wednesday night. They broke a window and, after all that damage, came away with $5 in change.
This is a local business, run by our neighbors. If you know anything about this break-in, please contact the Thurston County Crime Stoppers at 360-493-2222.
And, if you're in the mood for a beverage, please stop by Steamboat Island Coffee Shop. They do a fine job and we've every reason to want to see this local business thrive.
Here's how the incident was reported in The Olympian:
Thieves broke a $75 window to gain access to an espresso stand on Steamboat Island Road near Sexton Drive N.W. Wednesday [June 27] morning and made off with about $5 in change from the stand's money box, Lt. Chris Mealy of the Thurston County Sheriff's Office said today.

The burglary took place sometime between 1 a.m. and 4 a.m. Wednesday at Steamboat Espresso located at 3403 Steamboat Island Road N.W.

Anyone with information about this incident is asked to contact Thurston County Crime Stoppers at 360-493-2222.