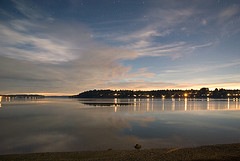 Nearly a year ago, Thurston County held a series of public meetings "to hear citizens' views and knowledge on eight requirements elements of the Shoreline Master Program." We wrote about this back on March 1, 2009. Thurston County has now posted a draft of their Shoreline Inventory and Characterization Report. Unfortunately, we never received notice of this and it was only by accident that it was discovered, but barely in time to here post notice of its availability. Public comment is now being taken on the draft, but the deadline for public comment is only two weeks away, on February 15.
Click here for the Planning Department's Shoreline Master Program Update pages.
Public comments may be sent by email to smp@co.thurston.wa.us
Spanning 323 pages (a 9.5 MB download), not including appendices, the Shoreline Analysis and Characterization was submitted this last July by Grette Associates, an environmental consulting firm out of Tacoma. The document provides information regarding "ecosystems and ecosystem-wide processes that influence and shape shoreline ecological functions."
Information is presented at a broad scale and provides a foundation for understanding shoreline management in the context of ecosystem-wide processes. The chapter begins with a description of Thurston County's regional setting, including the hydrogeologic factors /process controls of topography, climate, geology, and hydrology that govern ecosystem-wide processes. It describes nearshore and freshwater processes and effects of process alterations on ecosystem function. It describes priority species and habitats existing in Thurston County.
A small section regarding "Sea Level Rise" may make for interesting reading, particularly for those residents near to shore. Sections describing geology, the effects of deforestation, processes affecting shellfish harvesting, goundwater recharge, and naming of some key threatened and endangered species are within the first 100 pages.
Much of the inventory describes several characteristics in portions of 4 areas known as water resource inventory areas (WRIAs). There are a total of 62 identified WRIAs in Washington state, according to the report. A WRIA designates the boundaries of specific watersheds.
In the Inventory, our watershed is described as "WRIA 14 – Kennedy/Goldsborough" (page 77). "WRIA 14 is 381 square miles in size. Approximately 48 square miles are located within Thurston County. 9% of the County is located within this WRIA." 12 different basins are located within WRIA 14 and each basin is described in the document.
The predominant land uses in WRIA 14 are as follows: Single family residential (20%), Designated Forest Land (27%), and Undeveloped Land (37%).

The predominant zoning designations in WRIA 14 are as follows: Long Term Forestry (47%) and Rural Residential – One Dwelling Unit per Five Acres (45%).
Not surprisingly, "analysis of future basin use within this WRIA reflects that this area will experience increased residential and commercial development."
The majority of the marine shoreline within this WRIA has been developed for residential use. 2006 aerials reflect that large portions of the shoreline have been armored and the vegetation adjacent to the shoreline has been modified.
Basin analysis for our area begins on page 205.
Regarding the basin marking the west side of Eld Inlet, the report notes, "This basin contains a small number of un-named streams that flow into Eld Inlet. These streams are not mapped as meeting the shoreline jurisdiction requirements. However, these streams are likely to qualify as critical areas."
The same is said for the Kennedy Creek basin, on our southwest corner, Perry Creek, to the southeast, Schneider Creek, and the Totten Inlet side of our peninsula.
For those of you willing to consume a one-page, 30 MB file, there is a countywide mosaic of 2006 aerial photos available. Similar documents map impervious surfaces, but only from 2004, and forest cover, also from 2004. Further analysis of the documents will be required in order to determine if the County is making decisions based on these old views of our region.
Click here to see a description of the status of the Master Shoreline Program Update.
Click here for the County's Master Shoreline Program Update Q&A.
Thurston County's Shoreline Master Program was last updated in 1990, before new state guidelines were approved in 2003. Thurston County must update its plan by 2011 in order to be consistent with the latest state requirements. Public input is an important component in this effort.
We would like to write again about the documents the County has made available for public review. This assumes we get enough eyes looking that this material, over the next few days. If you have the opportunity to review some of this, and wish to share your opinion with others – or point out details you feel ought to be more closely evaluated – please consider dropping us an email at gna@GriffinNeighbors.org.