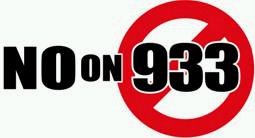 Initiative 933 is a costly scheme that would force communities to either unfairly waive important neighborhood safeguards, or pay special interests potentially hundreds of millions of taxpayer dollars to comply with the law.
According to the Community Protection Coalition, "It's simple: if I-933 passes, special interests win, and taxpayers lose."
The Community Protection Coalition is staging a kickoff event for their "No on 933" campaign on Thursday, May 25th at 6:30 pm at the First Christian Church, 701 Franklin St. SE, Olympia. Click here for a map to First Christian Church.

If passed, I-933 would:
Costs taxpayers tens of millions of dollars, for years to come
Allows government to waive rules that protect our communities – to benefit special interests
Creates loopholes for irresponsible development (and more traffic!) that will harm our quality of life now and for future generations
Takes away a neighborhood's right to protect themselves and their property
Leads to bureaucratic chaos and endless lawsuits
I-933 in brief:
Requires state and local governments to exempt certain property owners from any land use, zoning or environmental law adopted or changed since the beginning of 1996, unless government pays the property owner for complying with the law.
Requires communities to give exemptions — or pay with your tax dollars — for logging rules, shoreline protections, water-use laws, and key safeguards that keep toxic chemicals out of rivers, streams, and Puget Sound.
I-933 is very similar to Referendum 48, the ill-conceived measure that was rejected by 60 percent of Washington's voters in 1995.
I-933 costs too much
I-933's payoffs for irresponsible development will cost millions of already over-stretched taxpayer dollars – money that could be used for funding for public services like schools, roads and public safety.
I-933 creates special interest loopholes
I-933 makes communities choose: either pay special interests to comply with the fundamental laws that protect our quality of life, or give those special interest waivers so they don't have to play by the same rules the rest of us do.
I-933 harms quality of life
I-933 will result in the kind of sprawling, irresponsible developments that increase traffic congestion and overwhelm local education, public safety and other services we all depend upon.
I-933 actually threatens property rights
I-933's "waive or pay" requirements say irresponsible development could occur almost anywhere, regardless of neighborhood standards.
And remember: Although I-933's proponents will try to make the link, I-933 changes no "eminent domain" laws in the State of Washington.
If you have any questions regarding the Protect Communities Coalition kickoff or to RSVP please email dan@protectcommunities.org or call (206)323-0520.
Click here for the Protect Communities Coaltion web site.
Click here to read our previous blog posting on this initiative.