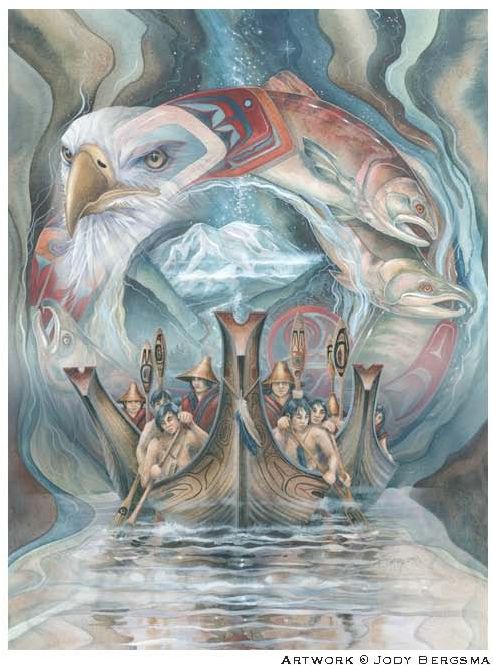 This year's annual Canoe Journey is hosted by the Nisqually tribe. For thousands of years Coastal Tribes traveled the great Salish Sea and fished its abundant waters and celebrated with the Potlatch. The Canoe Journey today awakens pride, purpose, responsibility and traditions in the youth that participate. Canoe Journey also inspires teamwork and what it means to work and pull together.
Giveaways have always been a part of the Salish people's culture; "potlatches" called together large numbers of people, frequently from different tribes, to share giveaways.
Local residents are invited to assist the Nisqually Tribe by purchasing blankets for them to give to visiting tribes. This is an important part of the experience for everyone involved. Jody Bergsma, designer of this beautiful blanket, is offering the artwork and production capability 'at cost' for this project.
The Art and the Story:
A vision of the great canoe warriors emerge from the past.
Their cedar canoes and paddles are empowered with symbols of totems for the tribe. The feathers of eagle and raven are on the bow.
Paddles are up and signal a request to come ashore.
The canoes travel to the mouth of the Nisqually river whose head waters are formed from the snowy peak of Mt. Tahoma (Rainier).
A circle of salmon surround and protect the canoes and pullers. The Great Eagle Spirit watches over them all.
Behind the mountain is the milky way and the trail of stars that leads to the Ancestors.
Your contribution of $85 will purchase 10 blankets for the giveaway. Plus, you will receive one blanket for yourself. Supporters able to donate $85, $170, $255 (and so on, in multiples of $85) can receive one blanket for each ten they help to fund.
Can you help with a contribution? Interfaith Works, a not-for-profit organization, will receive funds to support the Nisqually Canoe Family with their production of this year's Paddle to Nisqually. Kindly make checks payable to Interfaith Works, with "Nisqually Blanket Giveaway" on the memo line. You may mail your check to Interfaith Works, PO Box 1221, Olympia, 98507. Please make your contribution by May 26th. Every $85 puts them closer.  Let Right Relations Steh-chass/Olympia know you want to donate and they'll front your donation until your funds can arrive.
The Blanket Project is offered by Right Relations Steh-chass/Olympia. Right Relations Steh-chass/Olympia is a group seeking to live in solidarity with the first peoples of the Salish Sea through education, acknowledgement, and supportive actions. Co-coordinators Pat Rasmussen or Douglas Mackey, can be reached at rightrelationsstehchass@gmail.com. Steh-chass is the name of the original people who lived in the lower Deschutes River basin.
The Nisqually Tribe welcomes and celebrates all nations and visitors to Canoe Journey 2016! The Tribal Canoe Journeys – Paddle to Nisqually – will take place July 30th through August 6th, 2016.