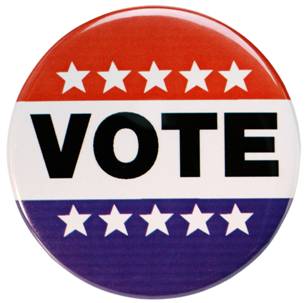 Plato said, "One of the penalties for refusing to participate in politics is that you end up being governed by your inferiors." Well, folks, you pretty much cannot avoid it; this year's an election year. And, with the Seahawks out of the playoffs and the writer's strike in New York and Hollywood, the political season could be some of the best entertainment around. Here in Washington State, voters have good reason to be confused about their role in the presidential campaigns; after all, our voices are heard only after "Super Tuesday" and then there's that bit about who's picking their delegates when. You see, the Republican Party in Washington State is allocating part of their delegates from the results of the Presidential Primary, on February 19, and the rest from the results of the Precinct Caucuses. The Democratic Party, however, will allocate all their delegates beginning with the Precinct Caucuses on February 9.
This means, particularly if you are a Democrat, the Precinct Caucuses (and not the Presidential Primary) are where your voice will be heard, so far as the presidential candidates are concerned.
If, as expected by many analysts, the February 5 Super Primary narrows the fields to the top two or three candidates for each party, Washington's Caucuses and Presidential Primary could be pivotal in selecting party nominees. We've already seen participation rates, in primaries and caucuses in the East, at higher-than-normal numbers. It's not been since the early 1950's that there's not been a sitting President or Vice President on the ticket.
Community involvement includes exercising your right to vote.
To vote in the Presidential Primary you must be registered to vote at your present address by January 19, 2008.
If you are not yet registered to vote, you can now register to vote online at
https://wei.secstate.wa.gov/onlinevoterregistration/Registration.aspx If you're not registered to vote, click this link and get to it!
February 6: Precinct Caucuses
Attend your precinct caucus, particularly if you are a Democrat.
If you are a Democrat, and are not able to attend your Precinct Caucus, you may designate a surrogate, to speak for you. For more information on this and other details for the Democratic Party Precinct Caucuses, click this link.
For Republican Party Precinct Caucus locations, click this link.
'Not certain which precinct is yours? Click this link to look up your precinct location.
February 19: Presidential Primary
There's a ballot drop-off location conveniently placed in front of the Griffin Fire Department Main Station at 3707 Steamboat Loop NW. For other locations, click this link.
Then, mark your calendars and participate in your American Democracy.
Washington State Republican Convention
Begins May 29, 2008
Spokane
Washington State Democratic Convention
Begins June 14, 2008
Spokane
Democratic National Convention
August 25 – 28, 2008
Denver, Colorado
Republican National Convention
September 1 – 4, 2008
Minneapolis-St. Paul, Minnesota
General Election
Tuesday, November 4, 2008
For more information:
Thurston County Elections
http://www.co.thurston.wa.us/auditor/Elections/electns.htm
Thurston County Democratic Party
http://thurstondemocrats.org/
Thurston County Republican Party
http://www.thurstonrepublicans.com/