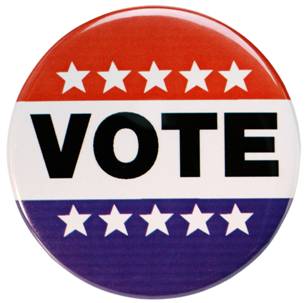 Democratic and Republican Precinct Caucuses are this Saturday, February 9, from 1PM to 3PM.
If you are a Democrat, following "Super Tuesday" you know two things for certain:
The Democratic nomination is still up for grabs
Your only chance to influence the outcome is this Saturday's caucuses
Washington State will be sending 97 delegates to the National Convention, making it one of the largest prizes left on the map. Saturday's caucus will decide who Washington State's delegates will support.
Fuse, a progressive network, has an excellent piece in which they "address all your excuses for not going." It's at http://fusewashington.org/about/163/caucus and that page will provide you with much of what you need to know.
In the Steamboat Island area, there are two Democratic precinct caucus locations: Prosperity Grange and Griffin School. The link above will link you to a "caucus finder."
It's important that you understand that the choice you make, on a Democratic ballot in the February 19 Presidential Primary is meaningless. It's an "advisory vote" and no delegates to the party's conventions will be allocated, based on the results of that ballot.
Please remember to vote in the Primary, anyway, since you will want to vote on the question of the Griffin School District M & O Renewal Levy.
You can vote, in the caucus, if you are 17 now, but will be 18 years old by this November 4.
Oh, and I am recommending Fuse's page, even though they have neglected to mention the third candidate running for the Democratic nomination: Mike Gravel.
If you are a Republican, you know Mr. McCain is within striking distance of tying up the nomination, but Romney is far from out of the race.
Republicans will allocate delegates both from the results of this Saturday's precincts and the February 19 Presidential Primary. This means you will want to participate in both the caucus and complete a ballot for the Primary.
Don't forget to vote for the Griffin School District M & O Renewal Levy, on your Primary ballot.
For information regarding the Republican Precinct Caucuses, visit the Thurston County Republicans at http://www.thurstonrepublicans.com/caucus2008.html There you will find a raft of information, including a caucus lookup link.
Steamboat Area precincts are holding their Republican Precinct Caucuses at Jefferson Middle School, 2200 Conger NW.
We've seen phenomenal turnout in the primaries and caucuses of other states.
One thing is for certain, Super Tuesday didn't settle this thing.
. . . and, the writer's strike has not robbed us of any of the entertainment value of this political season.